Notes Before Departure
2021
scent installation

a collaboration with Sam Vasen and Megan Pai
note cards collected by

The Antilibrary from The Center for Book Arts



Notes Before Departure is a collection of 8 scents that take the smeller on journeys. Each scent is a collaborative effort between Wendi and Sam, as they built on each other's imaginations to conceive the destination for each scent: the materials, temperature, scale, inhabitants and activities of each space.

Ranging from "Suburban Backyard" to "Botanical Garden on Mars", these are notes before departures to imaginary architectural spaces, designed during a time when we were geographically bound to the campus. The note cards borrow from the visual styles of train tickets, providing loose descriptions for the scent-initiated, imagined travels. Through a brief additional outdoor installation, we brought friends together on an intimate but immaterial journey.

Graphic design by

Megan Pai︎︎︎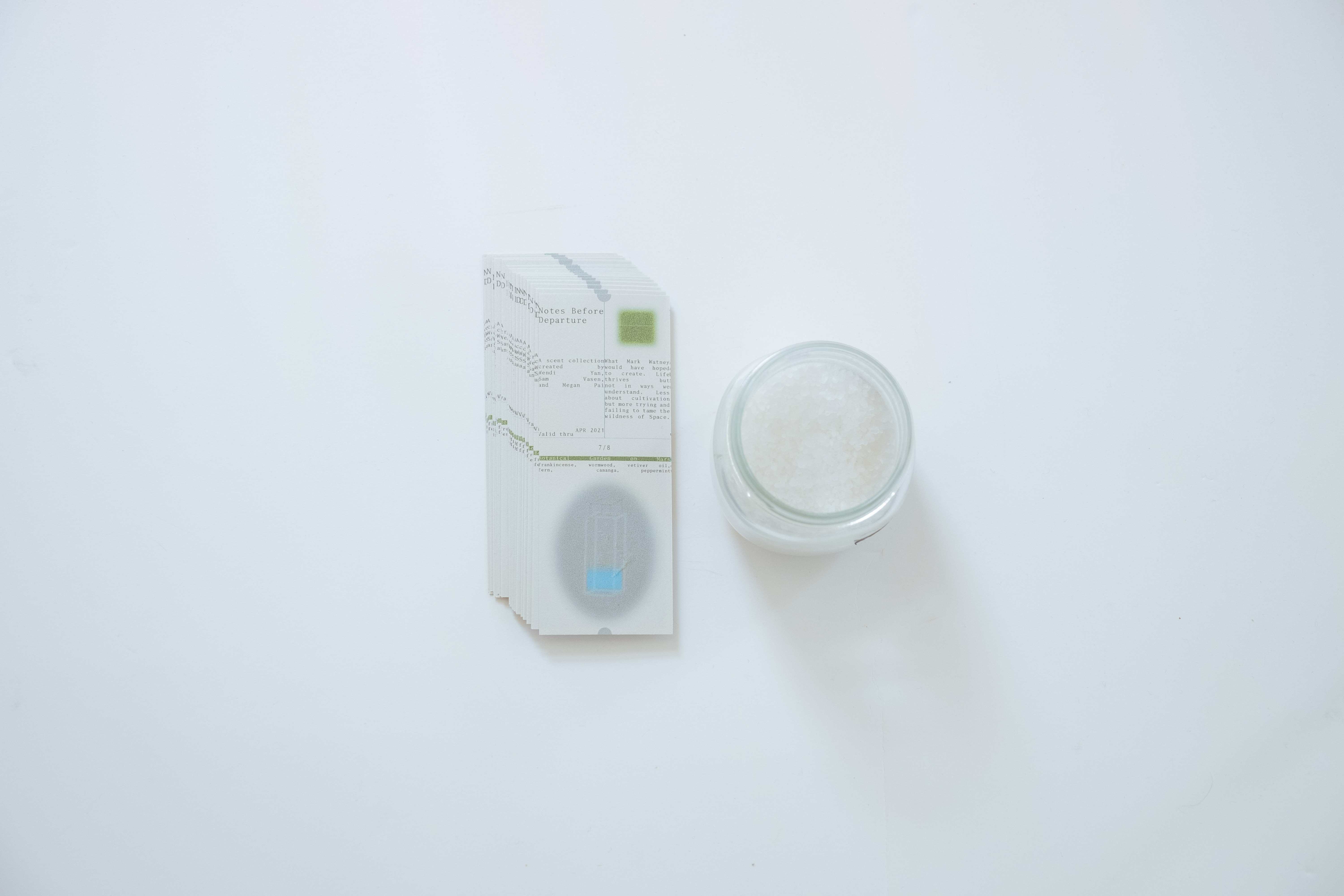 castoreum, black pepper, corander, mountain air, lavender
Obligated to throw a pool party for neighbors but you forgot to add chlorine so no one can swim. Everyone is standing around, deteriorating under the prevailing overcast.
n.2


Himalayan Medicinal Candy Shoppe
peppermint, orange, cedarwood, furikake, clove, coriander
Stand at the entryway. The air is thin outside, but go through the door and you will be engulfed in bliss and tradition. Like a kid in a candy store.


n.3

Interspecies Essence Convention Hall
true animal, castoreum, musk
Every year, all worldly creatures gather in this convention hall for a day of essence competition.
amber, eucalyptus, oak moss, juniper, sage
A moss couch nestled under a willow. As night draws near, sink in and listen to the sounds of the Swamp come alive.
myrrh, frankincense, vetiver oil, castoreum, lemongrass, grapefruit, fern
A crystal palace hidden under the leaves. Insects of all colored patterns fly, scuttle, writhe, crawl and dart in to meet their collective queen.
fern, amber, mountain air, petitgrain oil, origanum, eucalyptus, oak moss
Wafting from the back garden adjacent to the outdoor seating. Food is served on smooth pieces of slate and the wait staff have a twinkle in their eyes.

n.7

Botanical Garden on Mars


frankincense, wormwood, vetiver oil, fern, cananga, peppermint
What Mark Watney would have hoped to create. Life thrives but not in ways we understand. Less about cultivation but more trying and failing to tame the wildness of Space.
coffee, cedarwood, buddhawood, tea tree, tarragon oil
Float through the neon void tingling all the way. Watch out for stray turtle shells that monotonously float past.
Installation View