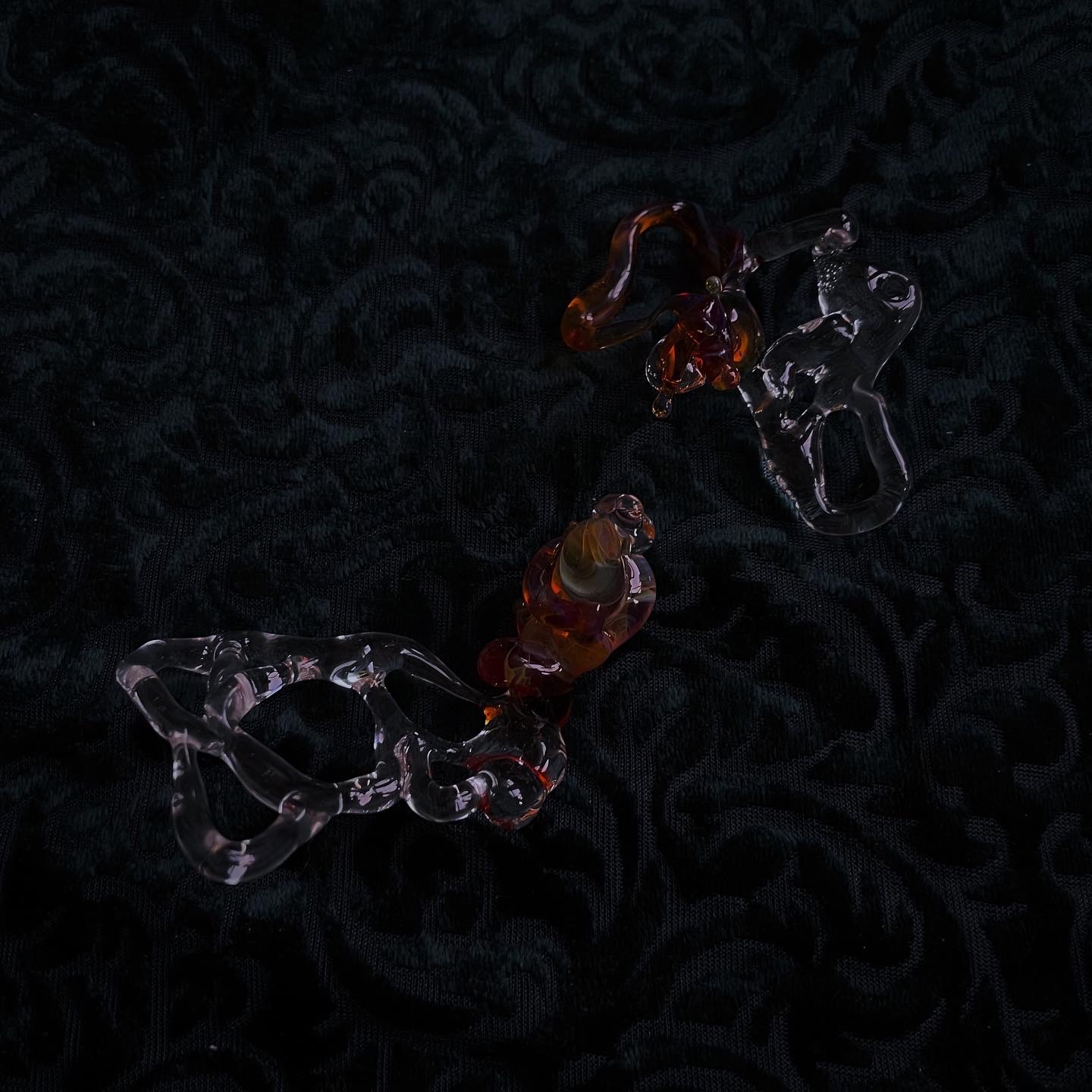 Notes Before Departure
scent collection
2021
a collaboration with Sam Vasen and

Megan Pai
notes cards collected by

The Antilibrary from The Center for Book Arts
Notes Before Departure is a collection of 8 scents that take the smeller on journeys. Each scent is a collaborative effort between Wendi and Sam, as they built on each other's imaginations to conceive the destination for each scent: the materials, temperature, scale, inhabitants and activities of each space.


Ranging from "Suburban Backyard" to "Botanical Garden on Mars", these are notes before departures to imaginary architectural spaces, designed during a time when we were geographically bound to the campus. The note cards borrow from the visual styles of train tickets, providing loose descriptions for the scent-initiated, imagined travels. Through a brief additional outdoor installation, we brought friends together on an intimate but immaterial journey.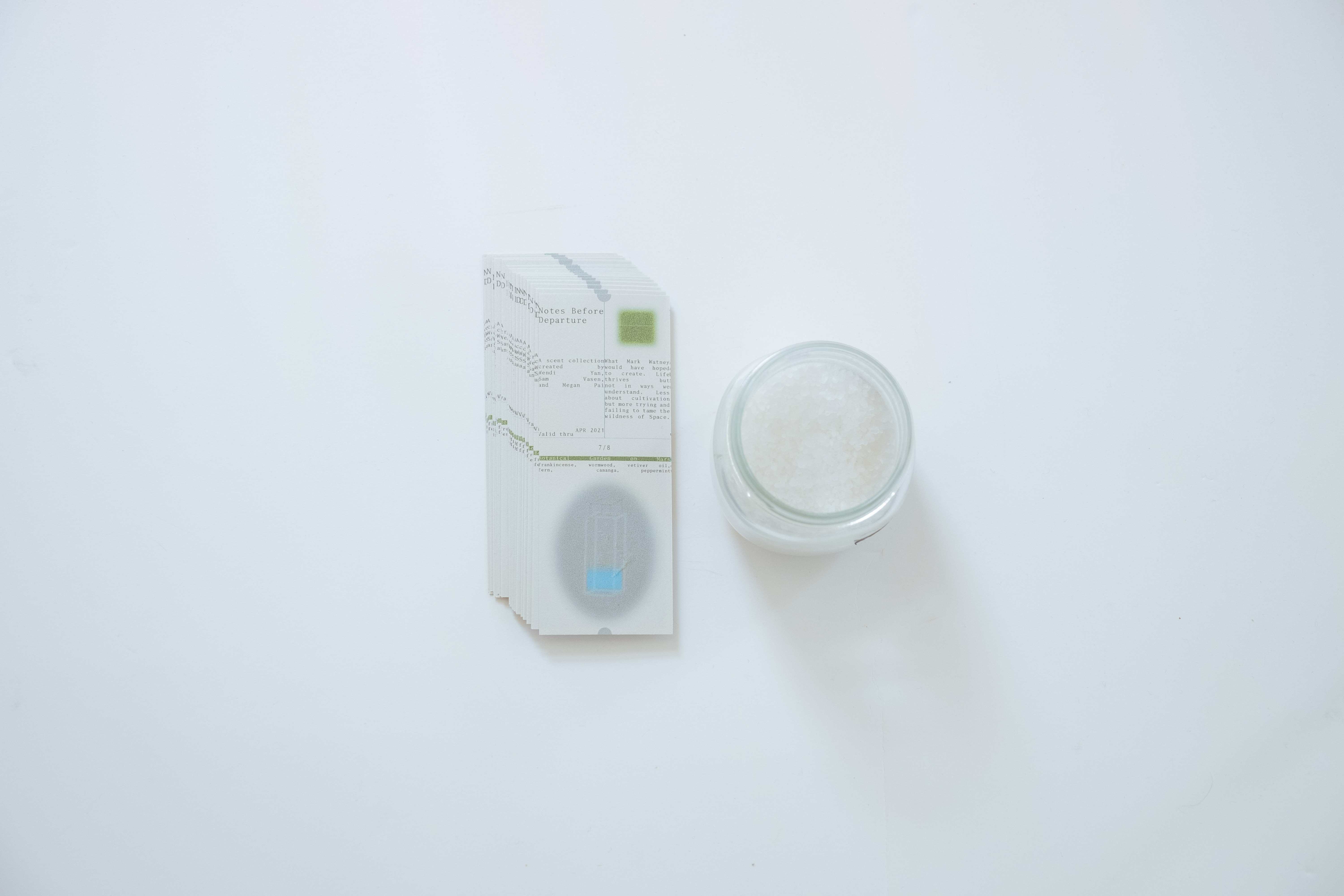 castoreum, black pepper, corander, mountain air, lavender
Obligated to throw a pool party for neighbors but you forgot to add chlorine so no one can swim. Everyone is standing around, deteriorating under the prevailing overcast.
n.2


Himalayan Medicinal Candy Shoppe
peppermint, orange, cedarwood, furikake, clove, coriander
Stand at the entryway. The air is thin outside, but go through the door and you will be engulfed in bliss and tradition. Like a kid in a candy store.


n.3

Interspecies Essence Convention Hall
true animal, castoreum, musk
Every year, all worldly creatures gather in this convention hall for a day of essence competition.
amber, eucalyptus, oak moss, juniper, sage
A moss couch nestled under a willow. As night draws near, sink in and listen to the sounds of the Swamp come alive.
myrrh, frankincense, vetiver oil, castoreum, lemongrass, grapefruit, fern
A crystal palace hidden under the leaves. Insects of all colored patterns fly, scuttle, writhe, crawl and dart in to meet their collective queen.
fern, amber, mountain air, petitgrain oil, origanum, eucalyptus, oak moss
Wafting from the back garden adjacent to the outdoor seating. Food is served on smooth pieces of slate and the wait staff have a twinkle in their eyes.

n.7

Botanical Garden on Mars


frankincense, wormwood, vetiver oil, fern, cananga, peppermint
What Mark Watney would have hoped to create. Life thrives but not in ways we understand. Less about cultivation but more trying and failing to tame the wildness of Space.
coffee, cedarwood, buddhawood, tea tree, tarragon oil
Float through the neon void tingling all the way. Watch out for stray turtle shells that monotonously float past.
Installation View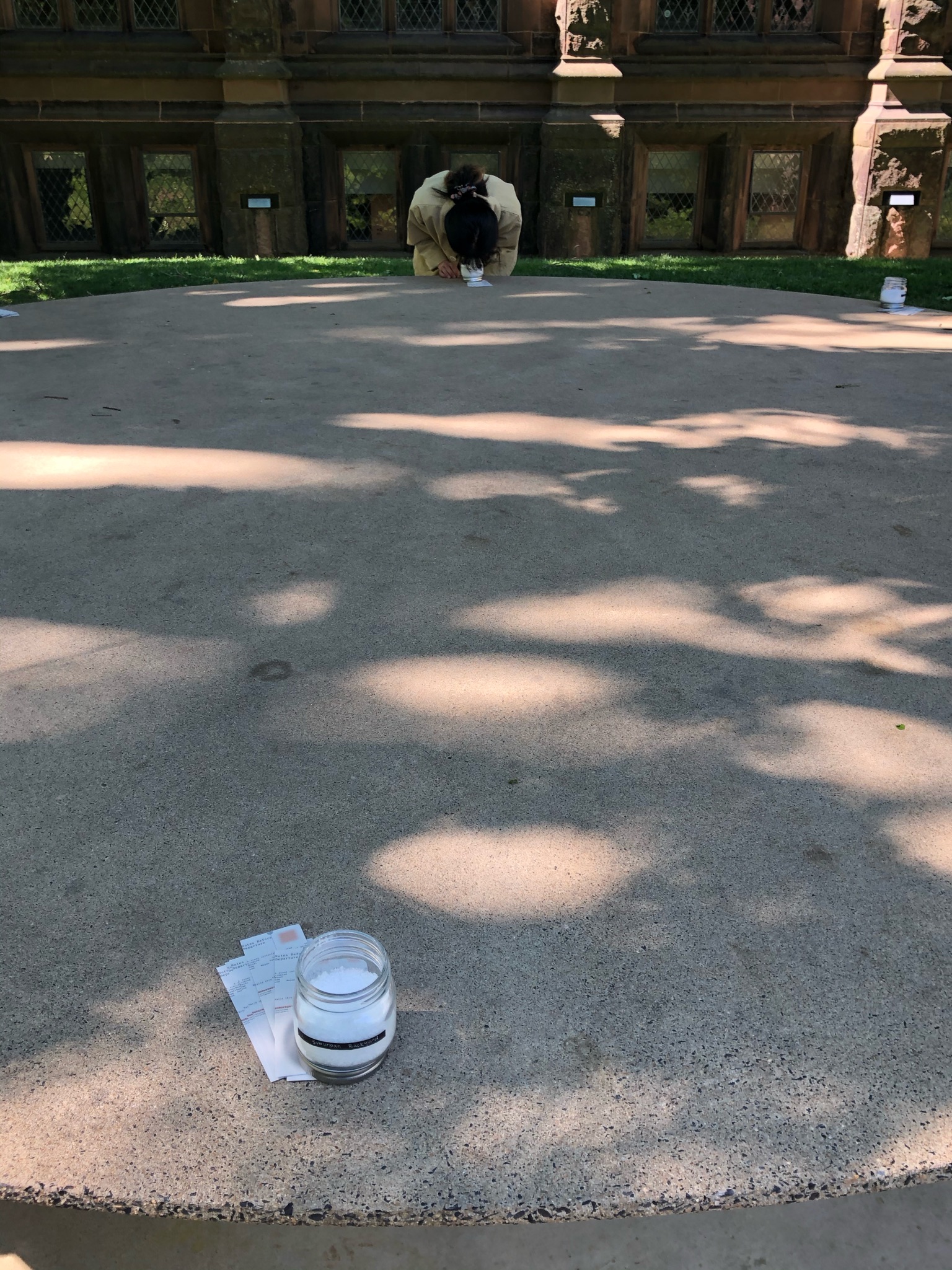 InTouch
---
UI design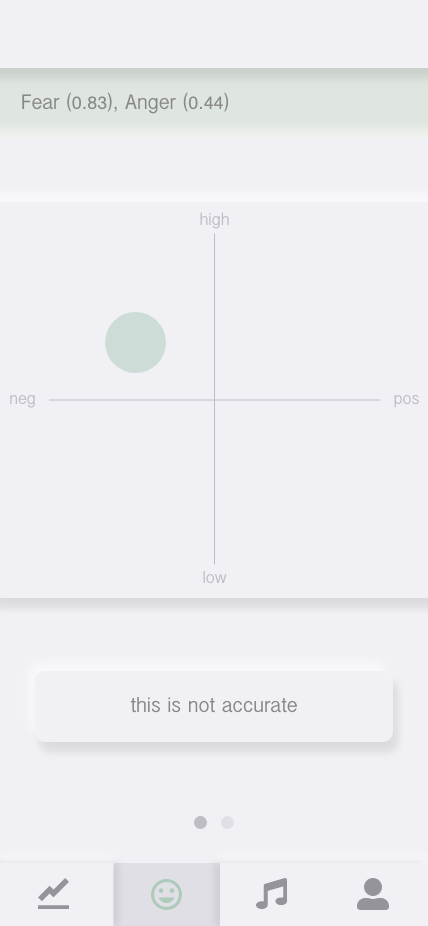 Siheyuan Co-House


co-living program
10.1.20 - 11.5.20

This will probably be the most special memory from my 2020.


In July, after I learned that I had no choice but to go back to China to take remote classes in the fall, I decided to rent a siheyuan in central Beijing for a month and live with other Chinese students in US colleges like me, to have a sense of community in this uncertain time. Through friends, and friends of friends, I found 13 really cool human beings, almost all of whom I barely knew at the time.



The 36 days of living in this siheyuan were beyond anything I could have hoped for. With these new friends, I went to art shows, walked on the streets of Beijing at 2am, experienced sensory-deprivation tank, visited a psychedelic guitarist, watched sunrise outside the Forbidden City, visited a worker's union exhibition, camped under the Great Wall, and watched the US election.


Many conversations happened in the common room from 12am to 7am -- that's right, because I have "afternoon" classes at Princeton -- about the commonalities between mathematicians and artists, what to do with a so-called elite education, why we want or don't want to have kids, and our thoughts about love.



We also opened the space to our friends outside the siheyuan every week. Events we hosted include: mid-autumn festival celebration, themed discussions, halloween pumpkin carving, election watch party, and a few casual gatherings. Every event was open to everyone who was interested. At certain points of our events, there could be 30 to 40 people in this little courtyard. And everyone interested was added to our "Friends of the Siheyuan" groupchat on WeChat, which has grown to almost 150 members by now. Because many people in this group met each other at our events, they now share information about art shows and film screenings in Beijing to find people to go together.
The siheyuan was only a beginning, of many beautiful experiences and relationships yet to come :)
photo by
Jessica Wang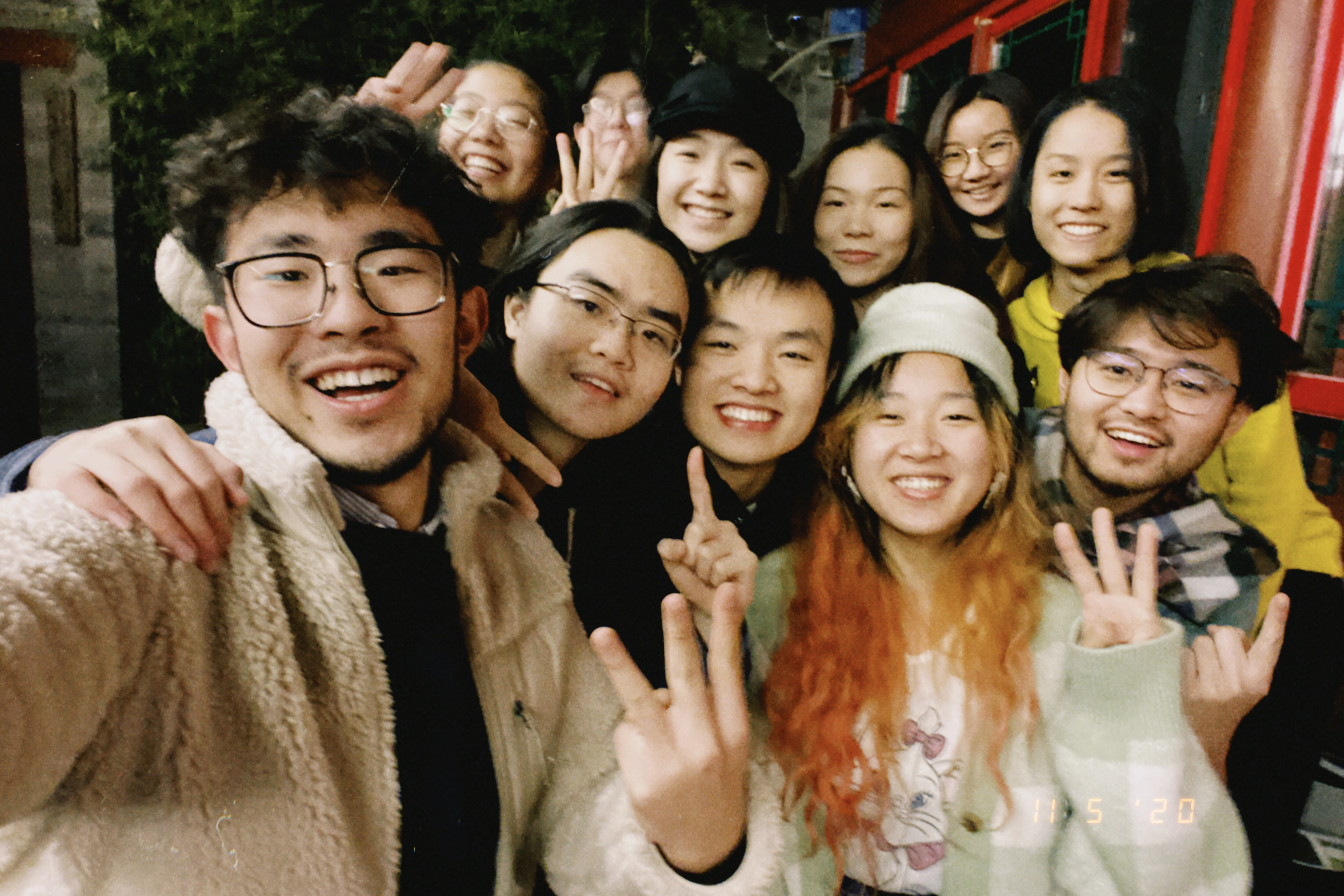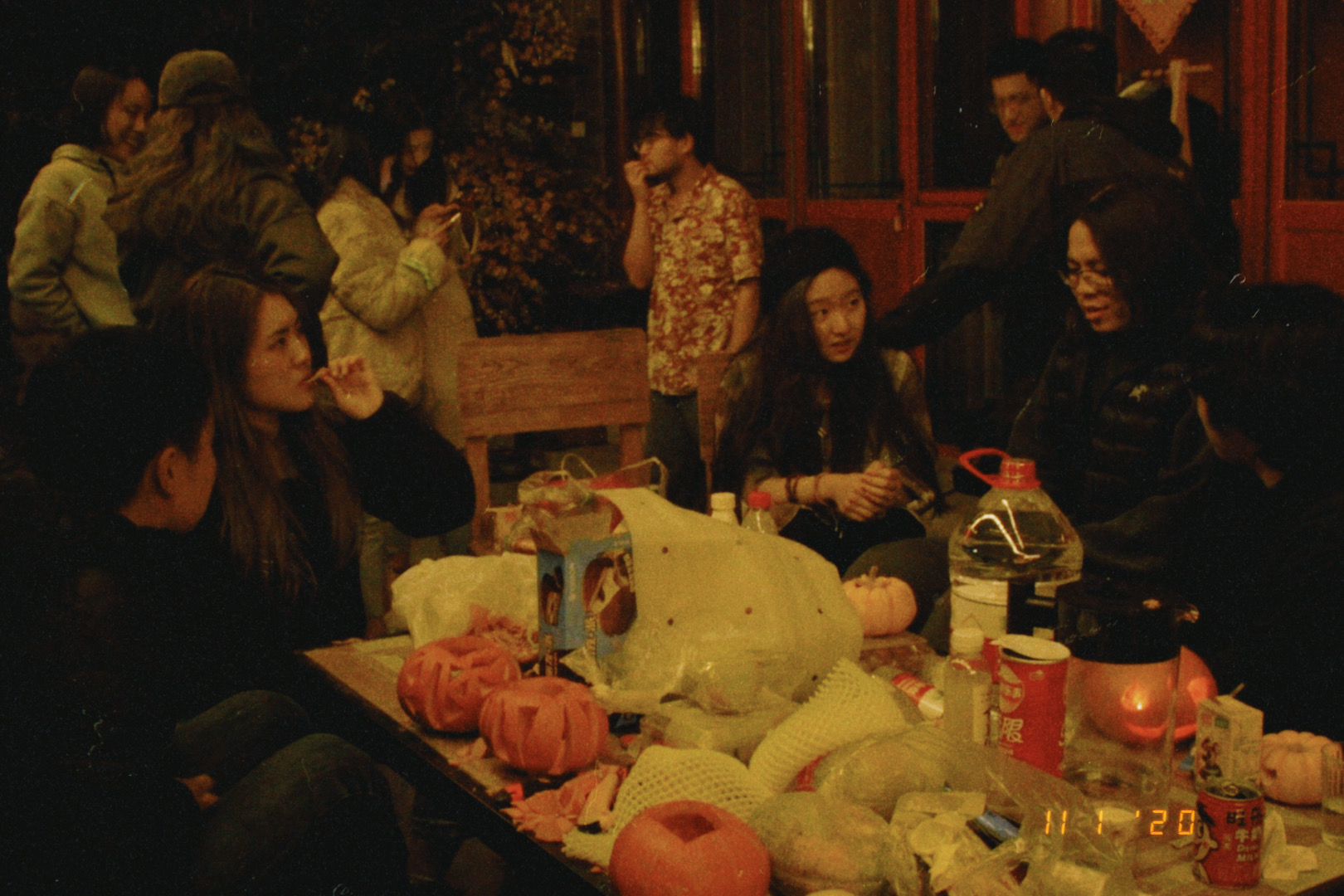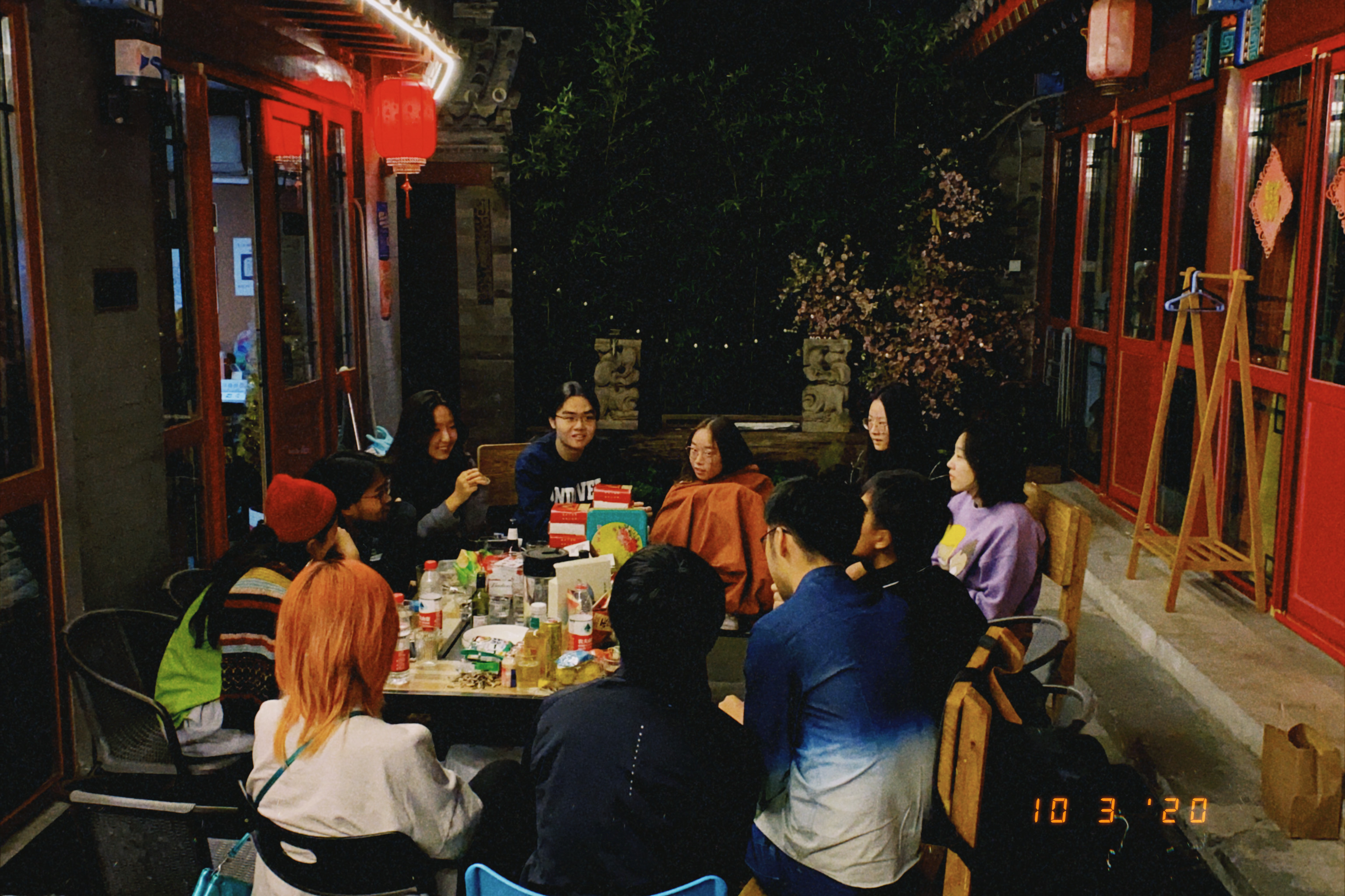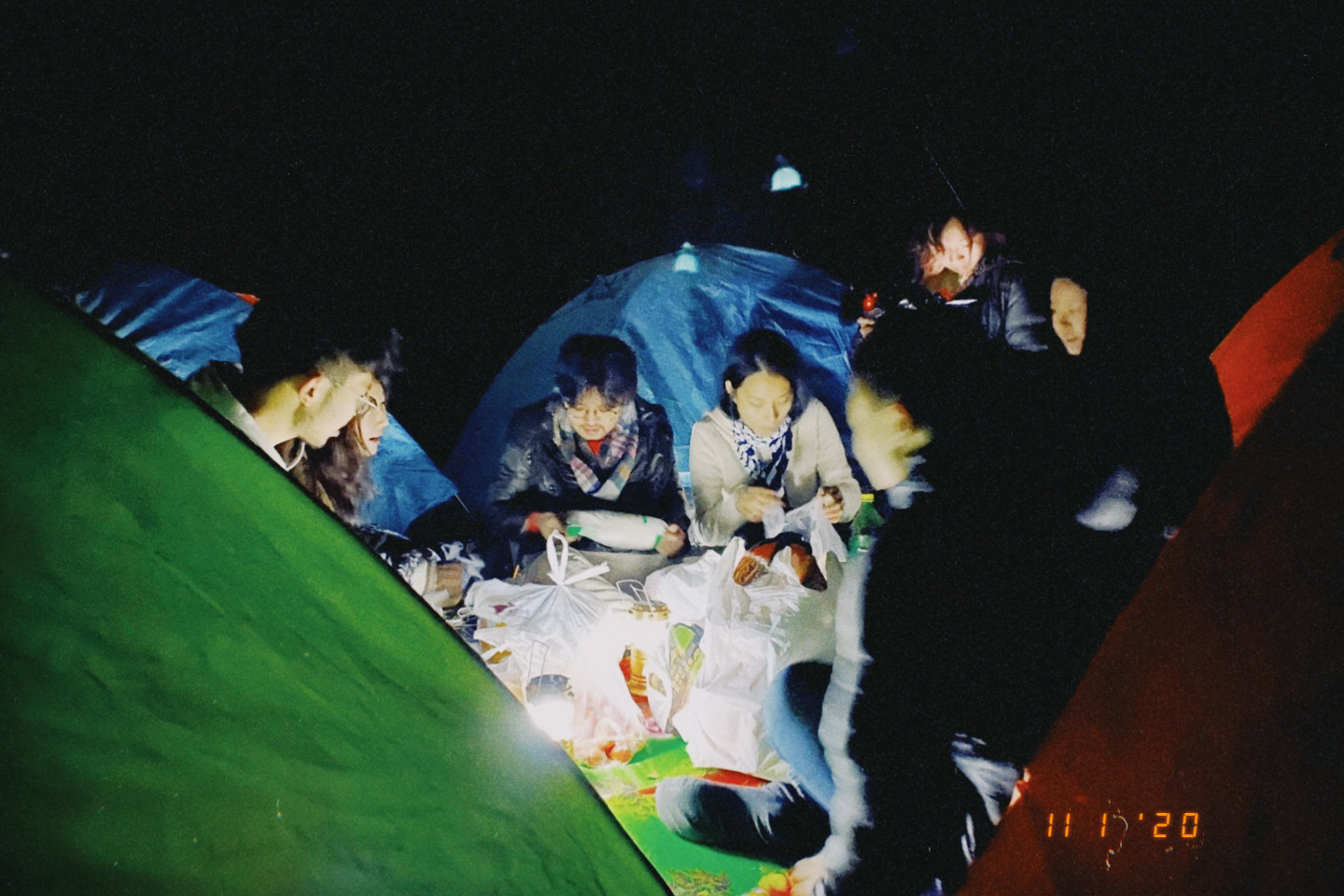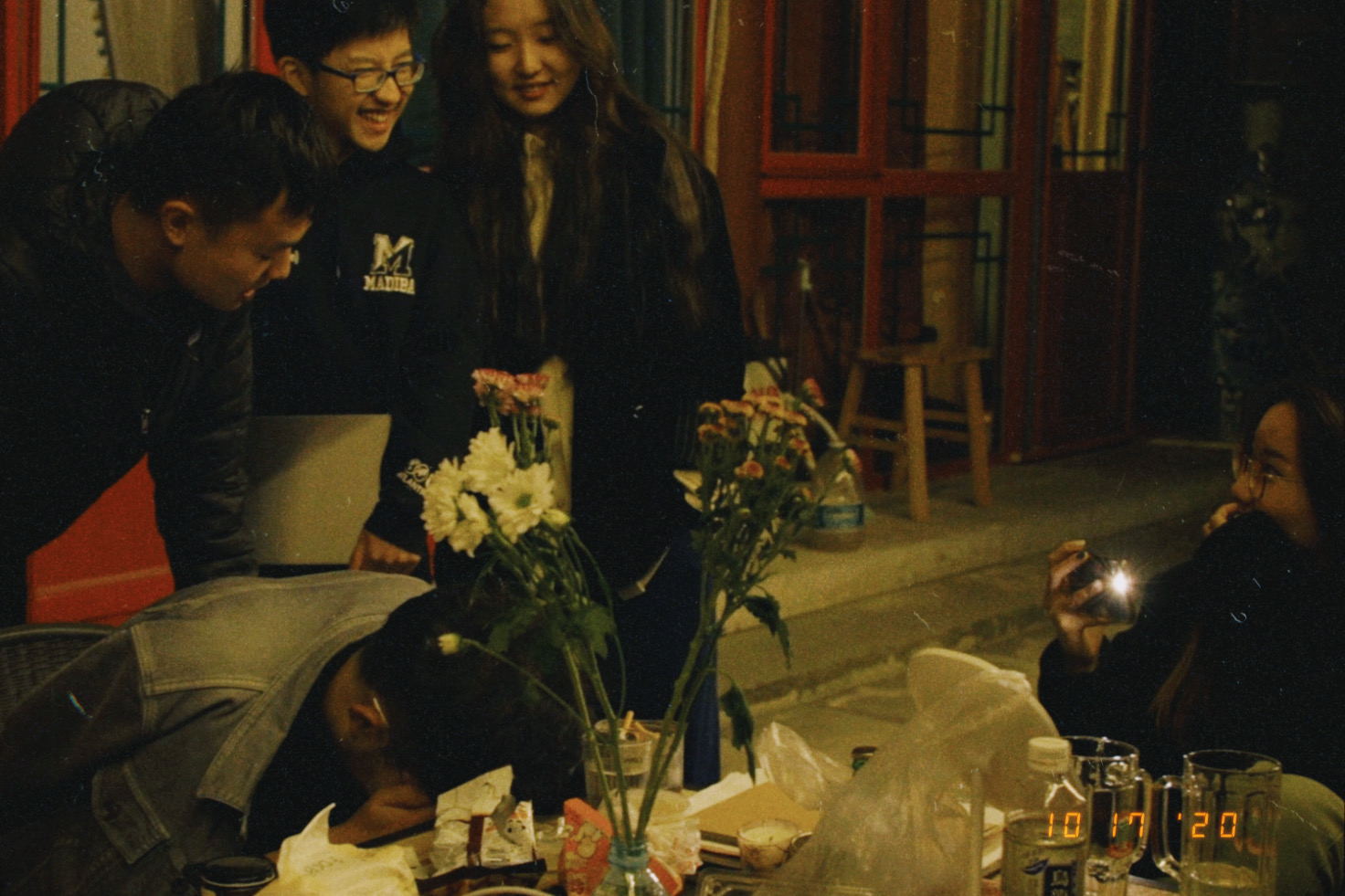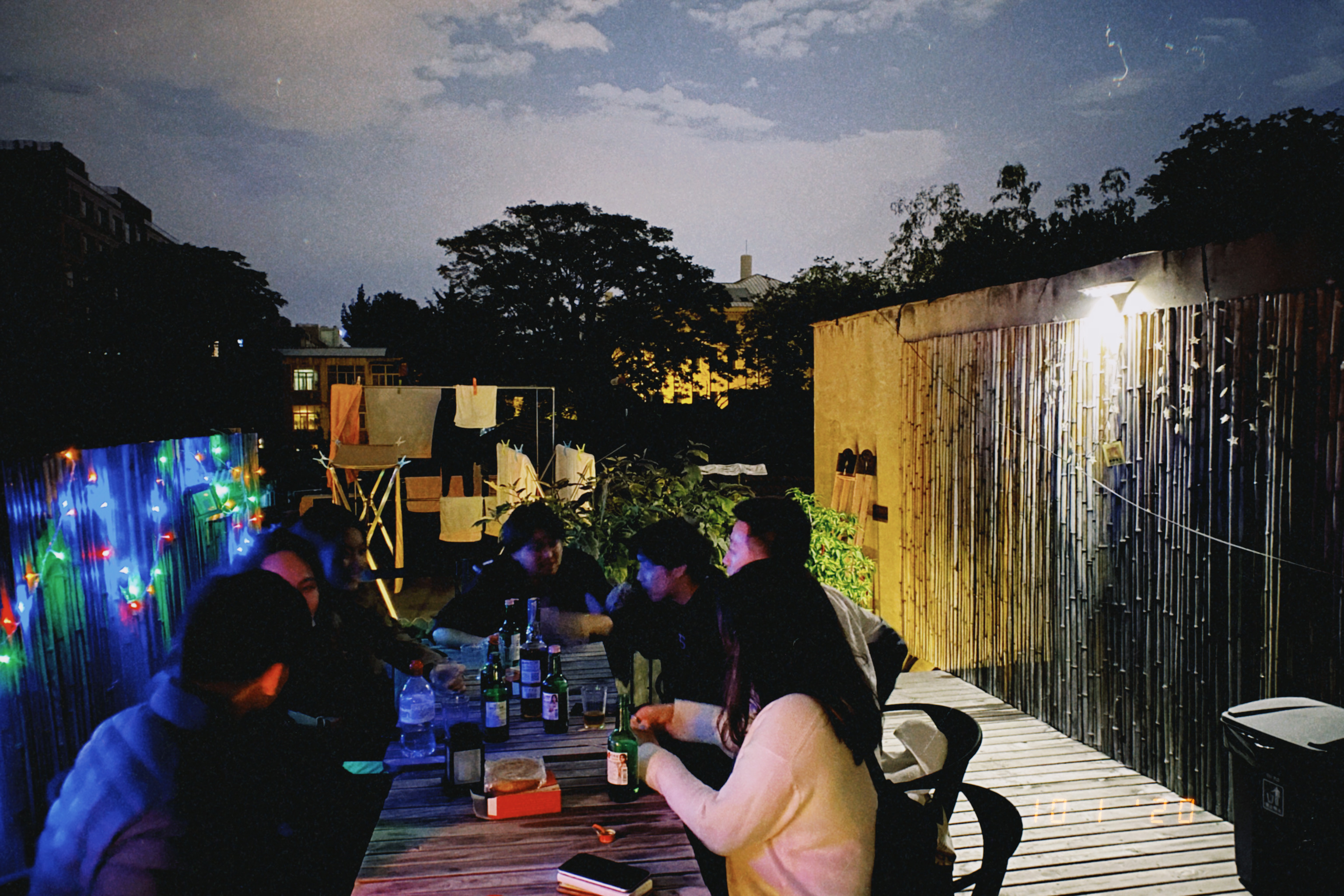 Fractal Body Plein Air


2022
digital landscape




Fractal Body Plein Air is a series of landscapes of reorganized bodies. Evoking the grotesque, they are internal made external, tissues turned into landscapes.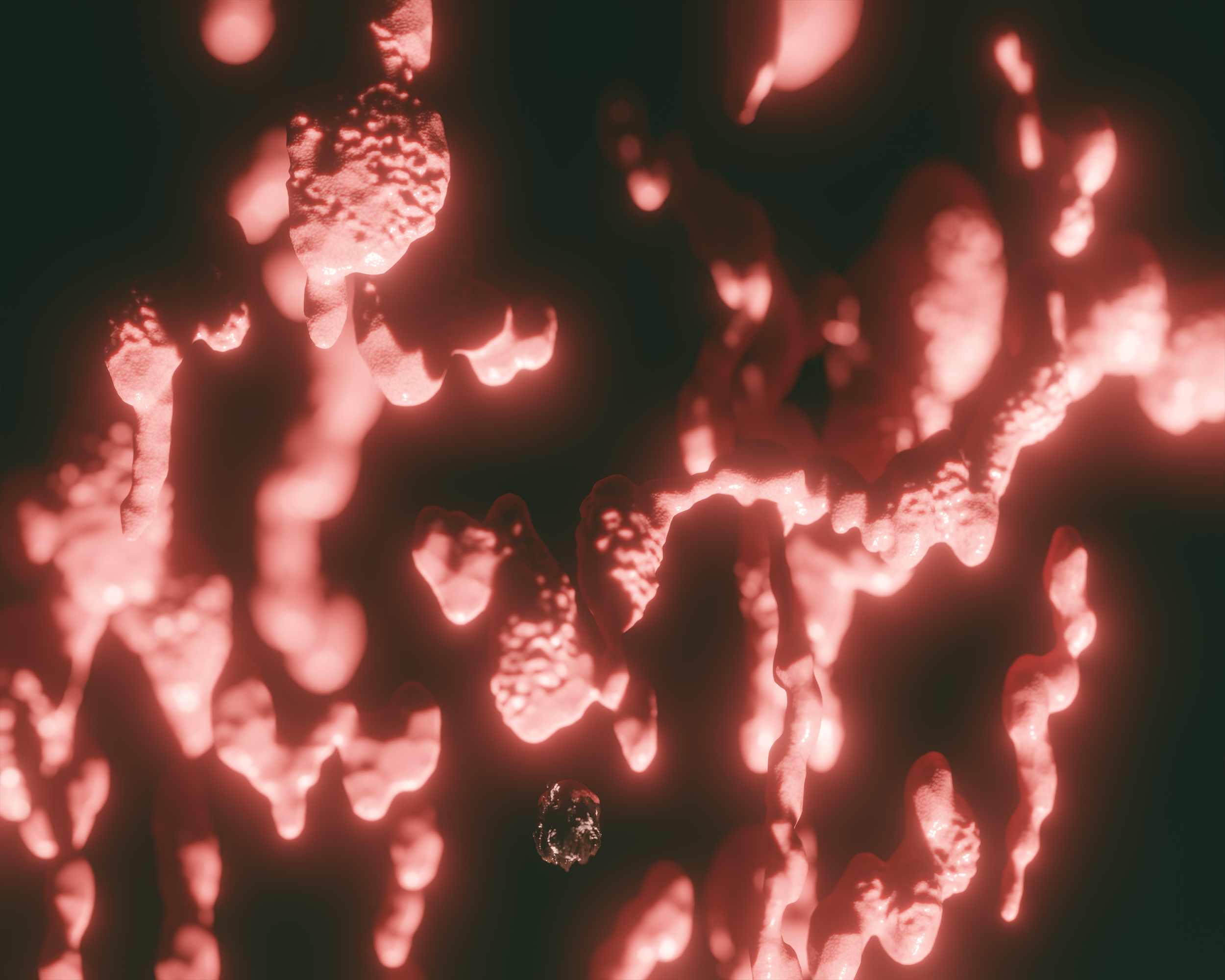 Primordial Vision: 02021

---
speculating futures of materials.
towards a more organic framework of technology.
︎︎︎essay for ecodao
Myco-Cosmotechnics

---
---
In a post-anthropocene world, the boundary between nature and technology dissolves, and humans thrive in symbiosis with natural technologies. Inspired by breakthroughs in mycology, technologists cultivate highly adaptable and ultra-connected natural technologies. Individual humans wear graphene tattoos and fungal facewear for radically personalized biometric data self-tracking.


In the Anthropogenic world today, technology consumes humans, humans destroy nature. Myco-Cosmotechnics speculates a heterotopia where technological systems are developed out of fungal mechanisms. Through this series, the artist asks: how can mycology illuminate aesthetics and cosmotechnics of the future? Can we take ourselves out of the technological philosophy from the Anthropocene, and construct a new ontological structure for "technology", "nature" and "human"?









installation view @ arts letters & numbers summer show


Metaz0a

2021



Metaz0a is a series of virtual organisms that challenges the traditional dichotomy between "natural" and "artificial/technological." It imagines a future of harmonic meta-symbiosis amongst what are now conceived as "nature," "technology," and "human."

Evoking viscerality through a virtual medium, Metaz0a is at once an organic technology and an artificial life.





This Jewelry Exists

2021
Virtual jewelry proving the existence of the non-existent (AI-generated) people, that you can try on
The Courtyard

2020-2021


documentary feature in development


Breakfast is Here
short film
2020

This short film was made during the filmmaker's mandatory quarantine in Shanghai, after she flew from New York to take remote classes as an international student. Focusing on the quarantine workers in white PPE, the filmmaker portrays an almost sci-fi room service experience in the covid pandemic. Mitla in Chaos


2020.2
weaving

Arquetopia Residency
Oaxaca, Mexico
Your Half Fortunes
2017
resin, transparent vellum


I asked students, faculty and staff of my high school to write down a fortune for themselves. When they came to the show, they had to flip over numerous resin hemispheres on which texts were suspended until they found their own fortune. Visitors to the show could also write down their fortunes on the cards I had prepared, and stick them around the pedestal.


Many of the hundred fortunes mentioned the words "love" and "happy" - reminders to take better care of themselves. After reading each fortune over and over, one classmate whom I barely knew personally told me she had written an anonymous note for another school project that I shared online, with the words, "I have a constant fear that I am not enough." At this exhibition, she wrote a card saying, "you are always enough."


This work enabled me to connect with my community. I felt fortunate to help convey the participants' tender and honest sentiments with relative simplicity and emotional depth and see how we all share similar hopes and fears.

The Architecture of Awe
independent research at

UPenn's Positive Psychology Center

, with guidance from

David Yaden
[Paper]

Neuroscience informs design, now what? Towards an awe-inspiring spatial design
Conscious Cities Anthology 2019: Science-Informed Architecture and Urbanism
[Gallery]
Awe-inspiring spatial design
-- with examples from art and architecture
visual supplement
1
.
.
2
.
.
3