My
Remote Semester
in China

part 2
//
11.6 - 12.15

published on 2.6.21


a trip to yunnan
Qing, my friend at the floatation center, took a perfume trip to Yubeng (in Yunnan) early November, and told me that he'd introduce his friends there to me if I visit. But through a series of events and coincidences, I ended up in Yubeng with two friends from my October courtyard, meeting only Qing's friends but not Qing himself.

Not being able to experience Yubeng with Qing was a bummer, but it was still a beautiful, beautiful place to explore.




My friends and I had somewhat mystical encounters with the animals there. When we came back from the Sacred Waterfall, we were the last people to return to the village. It was already very dark before we walked out of the woods, and a cat just appeared out of nowhere. She was leading us and accompanying us, walking us back to the village in the dark. We were going to thank her with some food when we got back, but she just disappeared as soon as we entered the village, without any of us noticing...

The second time, we were again the last people to return from the mountains. Two horses decided to walk us home: they walked in front of us, but whenever we reached an intersection, they'd stop and wait to see which direction we were going. Again, as soon as we got closer to the village, the horses naturally turned back and left.
I especially loved the second excursion we took. We were going to the Ice Lake, while knowing we woke up too late to actually have the time to get there that day. We just wanted to enjoy the process.

I don't remember when, but I started saying that I felt like we were three characters in a game, and the mountains were game environments, with different levels for us to go through. My friends continued the metaphor from there, and climbing the mountain started to be really fun as we yelled game commands to ourselves.

On our way down, we saw a heart-shaped rock that looked so strange and mystical. So I sat on top of it, and read "The Egg" by Andy Weir to my friends. :) It warmed my heart to read it to them there, then, as I first heard the story from my friend Kenneth in summer 2019, at a retreat with some of my favorite people. I may have mentioned this many times already, but my sensitive ass brain always has trouble with integraing my mind-world in the US and my mind-world in China. Reading "The Egg" to two friends I picked up from my courtyard in Beijing, and knowing that they'd love it, as my friend from the other side of the Earth did to me years ago, was very significant to me, in remembering that I could still find continuities in the lives I've been living, with groups of people who don't know each other.

Also! When we finally got out of the mountain, but were still at some distance from the village, we decided to pause for a moment to appreciate the sunset. A moment became something like a whole hour. Sunset became tons and tons of stars and the Milky Way visible to our naked eyes. For a while, we put on music that was a blend of techno and organic sounds. I held my portable speaker, and danced with it, moving it around our bodies to physically create a 3D musical field. For another while, we just observed the nature around us, made comments, built from each other's comments, ran wild with our imagination. At some point, we stared at the mountains behind us, only to find them resembling two HUUUUGE human faces with intense shadows on their facial features. "Seeing" this made me so scared of looking that way again, but then they transformed into one person putting their head one the other person's shoulder. The moment this thought appeared, I thought whatever was in front of me was so cute.
When I left the courtyard and flew to Yunnan, I was gradually hit by a very strange feeling or realization.
I felt I was really settling down in China. I was starting to have a life here, and I could actually see myself spending the rest of the academic year in China. I was excited, and scared at the same time.
I was afraid I was going to be changed into another person
, not necessarily someone I don't like, just someone too different to connect with my pre-covid friends.
What if my life path is going to be changed because of covid, in such a dramatic way, that I would feel inconsistent and my life broken into multiple parts?
What group(s) of people do I still want to and can I still associate myself with in my heart? This remained a central question for the second half of my semester.
X Museum Triennial





In a newsletter from artnet at the beginning of 2020, I remember it called this triennial one of the most important shows to pay attention to for the year, as it specifically features young Chinese artists, and the museum is founded by a 26-year-old. I really liked the overall aesthetics of the art there, and just very much appreciate the founder's effort in making the show about emerging young Chinese artists.



The museum's website is pretty cool too!
artnet article on Xufu Huang founding X Museum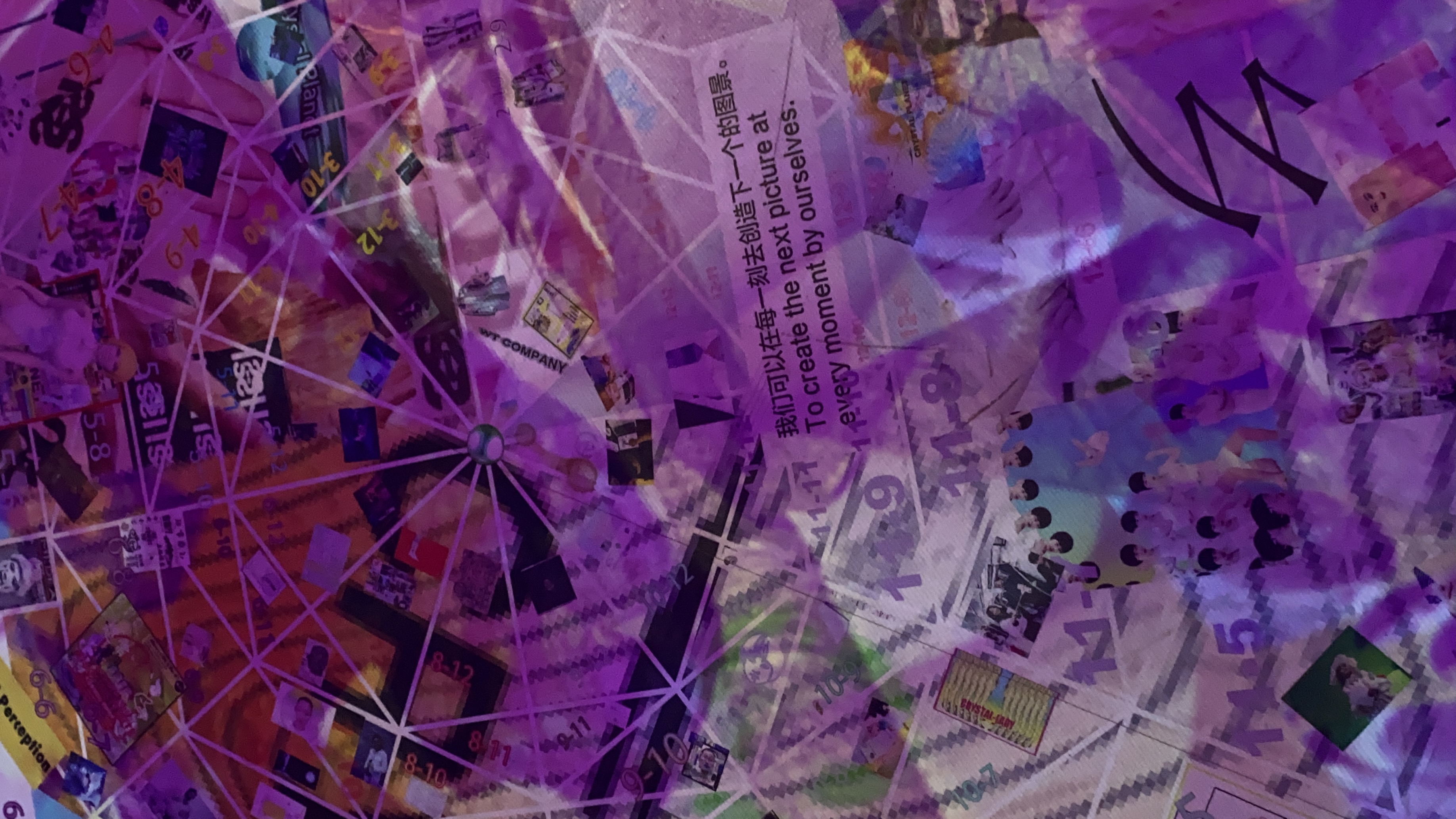 building a themed community - mArTechphysics

For most of the time in my October courtyard, I was convinced that I was going to (& that I needed to) live by myself after we move out. But Shaobo, a new friend of mine, proposed that we should organize another co-house, specifically for creative people to have a place for gathering whenever.
It turned out to be one of the things I'm most proud of from this semester. Because I realized at some point that this was basically a chance to
take a baby step towards something I want to do in the future
: organizing retreats or residencies for my friends from different creative (including STEM) disciplines, just to see what could come out of it, without specific agendas.
I can't stress enough how much I love that I got to build a themed community this way, at this time of my life. We had many nights of discussions on architecture, film, game, music, media art, comedy, crypto, consciousness, cyborgs, philosophy & sociology of technology, VR/AR, and more. Almost everyone that came to these gatherings goes to a different school and studies something different. Our majors ranged from stage design, interaction experience design, architecture, anthropology, to cognitive science, cs, math. Our schools included academic universities, liberal arts colleges, as well as a drama school, an architecture school, and an art school.
I met almost each of them at a different circumstanec, and I didn't know any of them before this fall!
---





The Goethe Institute in Beijing had a XR documentary exhibit, and hosted a one-day workshop. At the beginning of the day, we were able to experience all of the XR works there, and below are some of my favorites.




-


Bodyless


Hsin-Chien Huang


Oh my fucking god I loved this one. I think it's one of the most well-made and creative VR I've ever experienced.

Usually VR made by visual artists are pretty bad in rendering quality and interaction design, and those made by game designers are not so artistically thoughtful.

Hsin-Chien Huang's Bodyless definitely did a great job in combining the strengths of a visual artist and a game designer.
-
HANAHANA
HANAHANA is simple, technology- and art-wise, but it made use of the VR medium in such a clever way, that I honestly felt that I could just be in that world making sculptures with hands for a whole hour without feeling bored.
HANAHANA is so simple, but it promises a very open possibility space: what do I want to create with differently-sized hands in this desert or under the water? How do I want to build "connections" (when two hands are positioned in a certain way, they'd have electric charges between them)? What landscape change do I want to bring?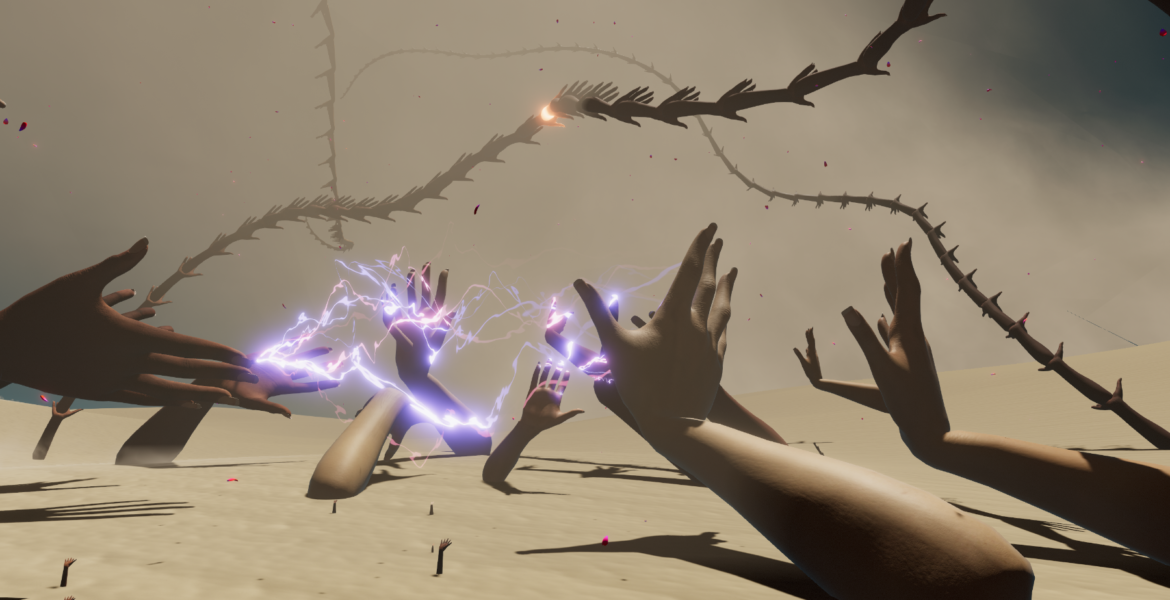 -
VVVR
This is also a pretty clever VR experience. It's really just a virtual space in which you become a sitting figure in meditation. When you make any sound, you'd see colorful things coming out of your "mouth". Two people could enter this space at once, and make sounds to each other.
---



Thanksgiving break




The four days of my Thanksgiving break felt like forever. Some of my favorite memories:

- eating peking duck as the Thanksgiving dinner substitute

- watching Howie Lee's improv with two other musicians

- playing UNO with my friends hehe. I got addicted to this game for a few weeks

- discussinng crypto art with someone who works in the field

- meeting the friends of another resident of the bnb whom we didn't know, including a guy who studies zoology and goes on trips to photograph all kinds of snakes

- hearing a friend talk about an art exhibit he co-curated and the exhibit space he designed







---
Howie Lee

I LOVE HIM. He was one of those artists that I just immediately knew would be my all-time favorites. I love his music. I love his music videos. I love love LOVE everything he creates.

Please give his stuff a listen/watch.

---


some of the things we discussed or recommended to each other in our gatherings at mArTechphysics:




- Asimov

-

The Red Book by Jung

- Hyperscanning

- combination of music & ethnography

- Oulipo ("workshop for potential literature" founded in Paris in 1960 by Raymond Queneau and François Le Lionnais)






---
Satoshi Kon


Some of us watched Perfect Blue and Paprika together. And, man, I loved Satoshi Kon's style of storytelling. While the aesthetics in Paprika is much more psychedelic and similar to what I usually like, I loved the storytelling in Perfect Blue a lot more -- it was much more complicated and layered in such a way that fit with the overarching narrative and the main character's internal experiences. I was confused a lot of the times, and that was the point.

Highly highly recommend both films. I bet Satoshi Kon's other films are amazing too.
---


More photos!




I just overall loved the spontaneous/natural gatherings we had. We never planned any "event" but people kind of just showed up and sat and chatted, multiple days a week. Like, on a few nights Stefan, Hannah or Shaobo just dropped by because they were in the area earlier in the day.

There were so many little things that brightened my day every day: biking on the streets of central Beijing at 11pm, going to screenings and art markets together, getting our Jungian personalities analyzed by our friend Yihan, taking my friends to my urban or jazz dance classes.... Or even just studying in cute coffee shops together, or cooking food without a recipe, or playing games, was so fun with these people. I really felt like I had a little home base in this particular area of Beijing that was pure in energy and intact from my past unhelpful associations with Beijing.







Our last two nights at mArTechphysics were magical! But my (lack of) mastery in language makes it impossible for me to talk about how exactly I felt and what exactly was so magical about the nights. I've tried many times to write something down, and the more I typed, the more I found my words futile.

So... here's a blurb of sort of what happened the first night:

Some of the people in our community were hanging out in the living room, talking about art again, including An Elephant Sitting Still, a 4-hour film several of us had just watched. Then it was 3am, and we went outside to buy some snacks, only to run into two friends of Er'yang's that Lilith, Stefan and I met 24 hours before. They invited us to go to the Republic with them, so we went, and ended up chilling there till 8am, when Chui, one of Er'yang's cosmic brothers, brought us to a really delicious breakfast place hidden in the hutongs. While at the Republic, we listened to music, talked about the universe, doodled, and...well, just spent time together.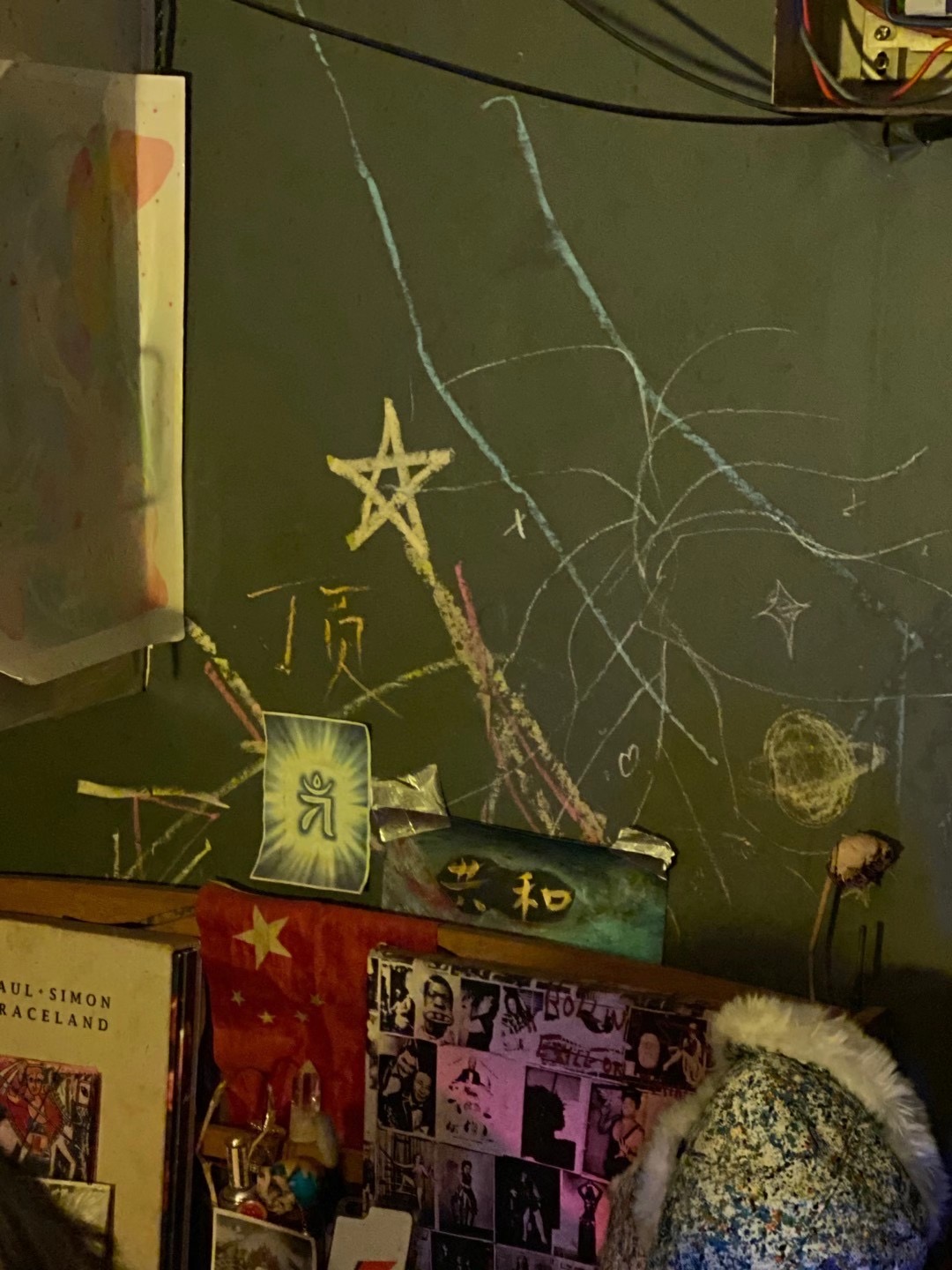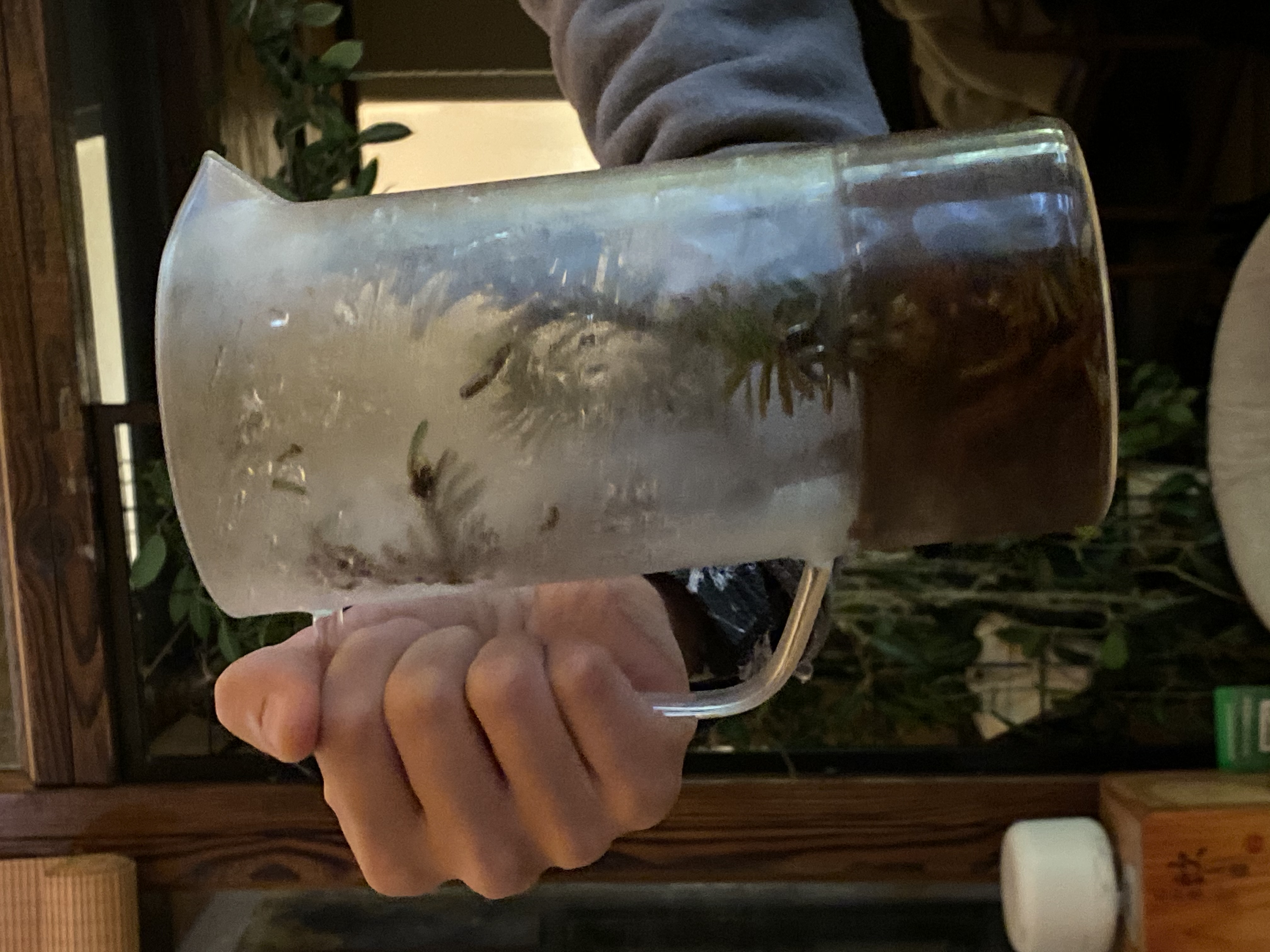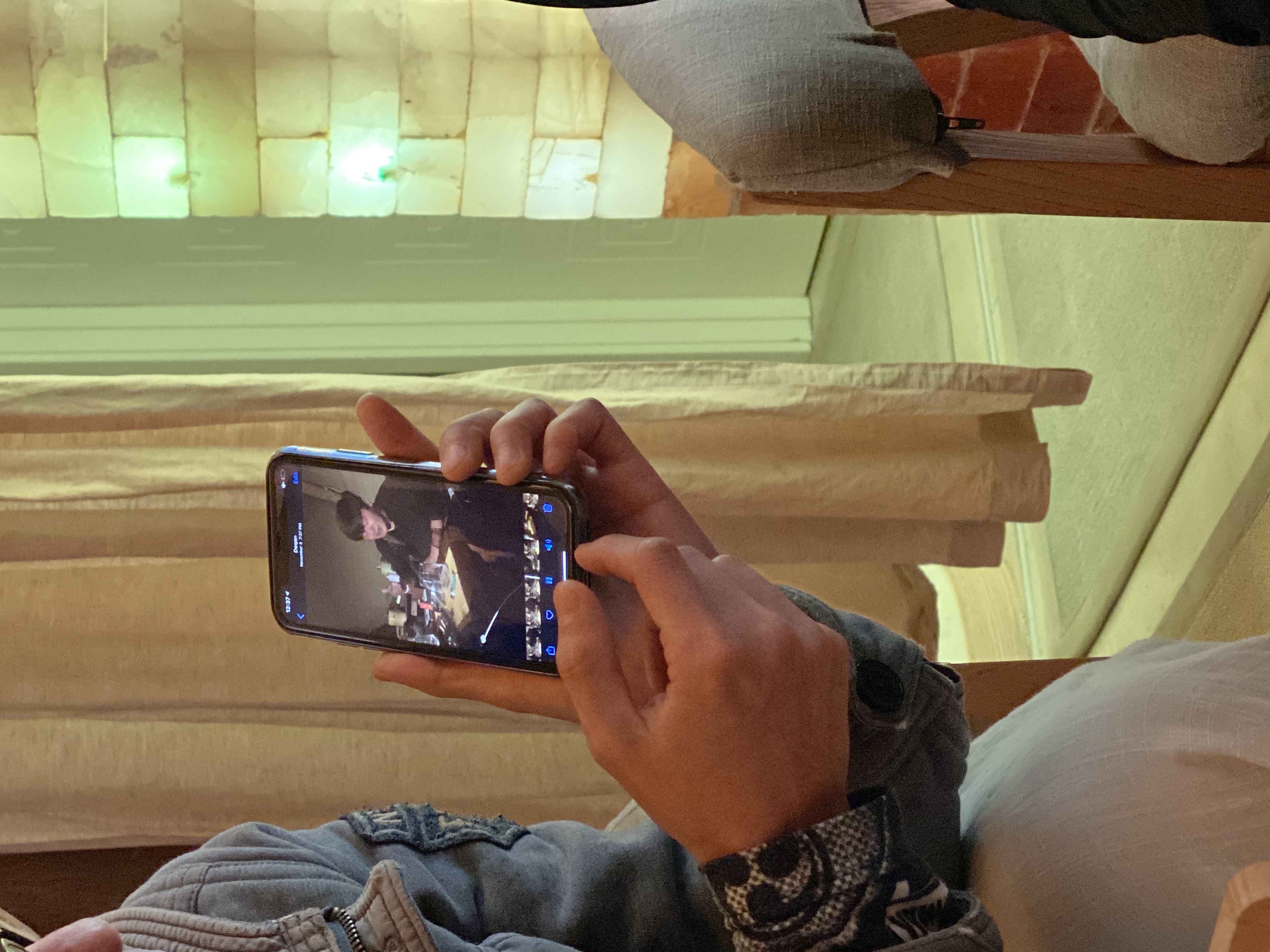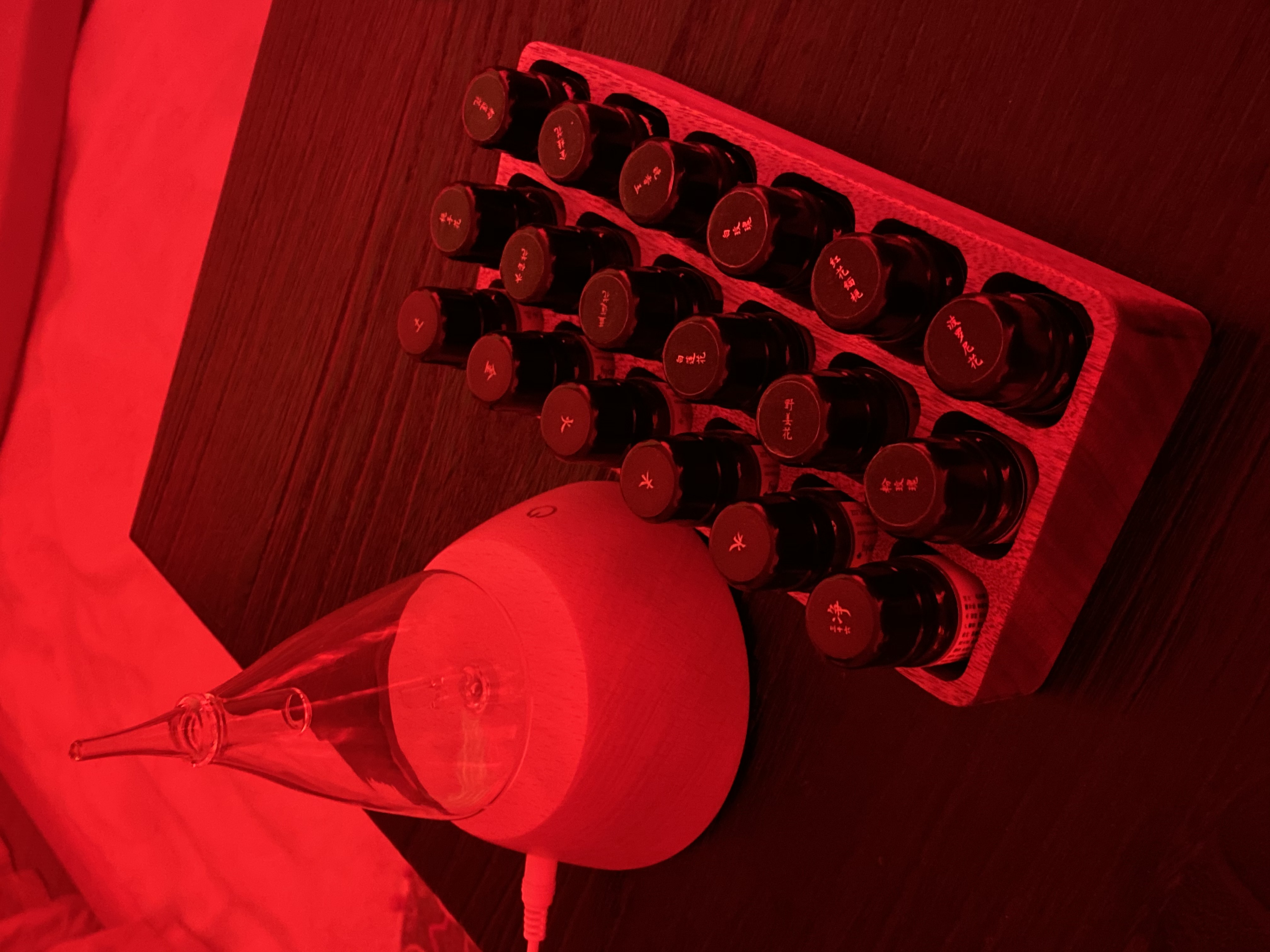 And here's a blurb of the second night:

I brought 8 friends to the floatation tank center run by my friend Qing. We got there at midnight, and Qing showed us things he brought back from his trip to Yubeng. Then we started having a fragrance sample session. We went around smelling different fragrances without knowing exactly what we were smelling, and wrote down our associations (images, feelings, textures, colors, sounds, etc) with that smell. Then we also just chilled there, and fell asleep on the salt cave(?)/sand(?)





A pretty cool thing that happened:

Qing showed us a perfume he made with ingredients he gathered in Yubeng. He sprayed a bit on each of our wrists, and within a minute, the scent smelled different on our wrists. I smelled each person's wrist, and found the scent milky on some people, sweet on some others, even a bit pungent on mine.

When Qing initially told us that it'd smell different for different people, I was skeptical and thought that it could be the placebo effect. But the scent literally smelled SO different on each person. I was and still am puzzled by it. So cool!!

I really want to learn how to make perfume and then do scent art with wild materials.
should I go back to Princeton?

When I found in my Princeton email a letter from our President saying that Princeton "invites all students back to campus" for the next semester, I was so shocked that I couldn't have any feelings.

Back in the summer, my international student advisor suggested that it was basically impossible that I'd have the time to apply for a student visa after the announcement and before the next semester. So I really said goodbye to my friends at Princeton and came back to China thinking I wouldn't return to the campus for at least another year.

The President's email came towards the end of November, just a couple of weeks after I set my mind to imagining that I was going to stay in China till next summer.

A part of me felt really bad for insisting on going back to the US. It means not seeing my parents for at least a whole year, and, because of all the co-living programs, I actually had only spent one week living with them since I came back, by this point. It means taking almost a whole month to just *get* myself there physically (14 days of quarantine + 1 week for visa application in Singapore). All this for what? Living in a very restricted situation for the foreseeable future and having my parents worry about my health.

And then a part of me was amazed that I was seriously considering the option of staying in China. I had been planning on spending the spring in Dali, Yunnan, with my friend Hannah -- we share so so many interests intellectually and artistically that I knew exploring Yunnan with her while taking remote classes together would be really exciting. Yunnan is also a magical place to be in, with incredible bio- and cultural diversity. I would for sure meet some magical people while there and create beautiful memories with them.

China meant, funnily, a lot of freedom. But it also meant to me a temporary place to stay, not somewhere I want to spend, say, 10 consecutive months in. This whole thought process was messing with my cultural identity again... A lot of it was symbolic. Leaving China for Princeton, was a symbolic gesture to frame this fall as a temporary event, not a "normal" track, while nonetheless a beautiful one. It was making up for a part of the gap year I missed.

Everything about staying in China was amazing, but my gut told me I wasn't supposed to be there for a whole year. If I had the option to leave, I'll take it.

When I started filling my DS-160 form and the rest of the visa application process, however, I noticed in myself a lot of fear too. Fear that I'd revert back to unhelpful thought patterns when I go back to Princeton. Fear that, when I try to orient myself socially on campus, I'd feel incredibly dizzy. Fear that too many things have changed. Fear that nothing has changed after all.
learning about new spaces
-
rct studio
link
My friend Shaobo and his friends got the opportunity to interview the founders at rct studio. When Shaobo brought this up to me, I possibly freaked out, because I'd followed rct studio's WeChat account for a month at this point and loved all of their articles, which were all academic ones about metaverse, complex system, emerging technologies for games, etc. So I joined Shaobo and his friends in visiting rct studio. We talked to the founders for two hours maybe? That was really fun, to just hear their stories and talk about metaverse with people who are actually doing something relevant.
-
On Dean's Date -- when you're supposed to turn in all your final papers at Princeton -- I decided to be anti-social for a whole day and really grind out my history paper. I went to a small coffee shop that I thought no one would go to and started writing there.

Then this really fashionably looking girl walked in, and I couldn't take my eyes off her. So I complimented her outfit. Later I found out she's a VJ. Heck I've been wanting to do VJ for a while!! As kind as she was, without knowing much about me besides that I'm still a college student, she invited me to her show three days later.

And I got to stand by her work station during the show, to really observe her vj process! It was essentially like dj, with a lot of buttons to press or knobs to turn, to mix elements together. I really loved that idea of not only creating an immersive experience for a lot of people in a shared physical space, but also creating that real-time and experiencing it *with* everyone else. I definitely want to explore this area more in the future.

After the show, the VJ brought me and a few of her friends to School, *the* bar to go to for Beijing's underground rock scene. Being there with her and her friends was surreal: I must have been in a real life cyberpunk 2077 kind of situation, and people all looked so chill. School was tiny. People seemed to know each other. At some point someone started rapping and others joined him. I got more curious about meeting people who make music and perhaps working with them on live shows or music videos.
zoom moments

-
I yelled "fuck you" to my entire
class
...when we were all performing random characters we just got assigned, and my character was an nihilist, chocolate-addicted teenager...
-
In the same class, we were asked to pair up randomly, interview each other, create an experience as a gift for each other, experience what we receive, and document our experience with the gift. The only thing we handed in was the documentation, so our professors never asked about the specific gift experiences we crafted for each other.
In one of the first weeks, we also read a chapter from All About Love by Bell Hooks.
I've only recently thought more about this, and I increasingly think our professors were teaching us some really important things. To create with love, out of love, and view our creations as gifts for others. Love as the original point for creations. Even as an artist, sometimes you can lose sight of things and start creating for the sake of getting more work done, but ultimately, creating should be driven by love.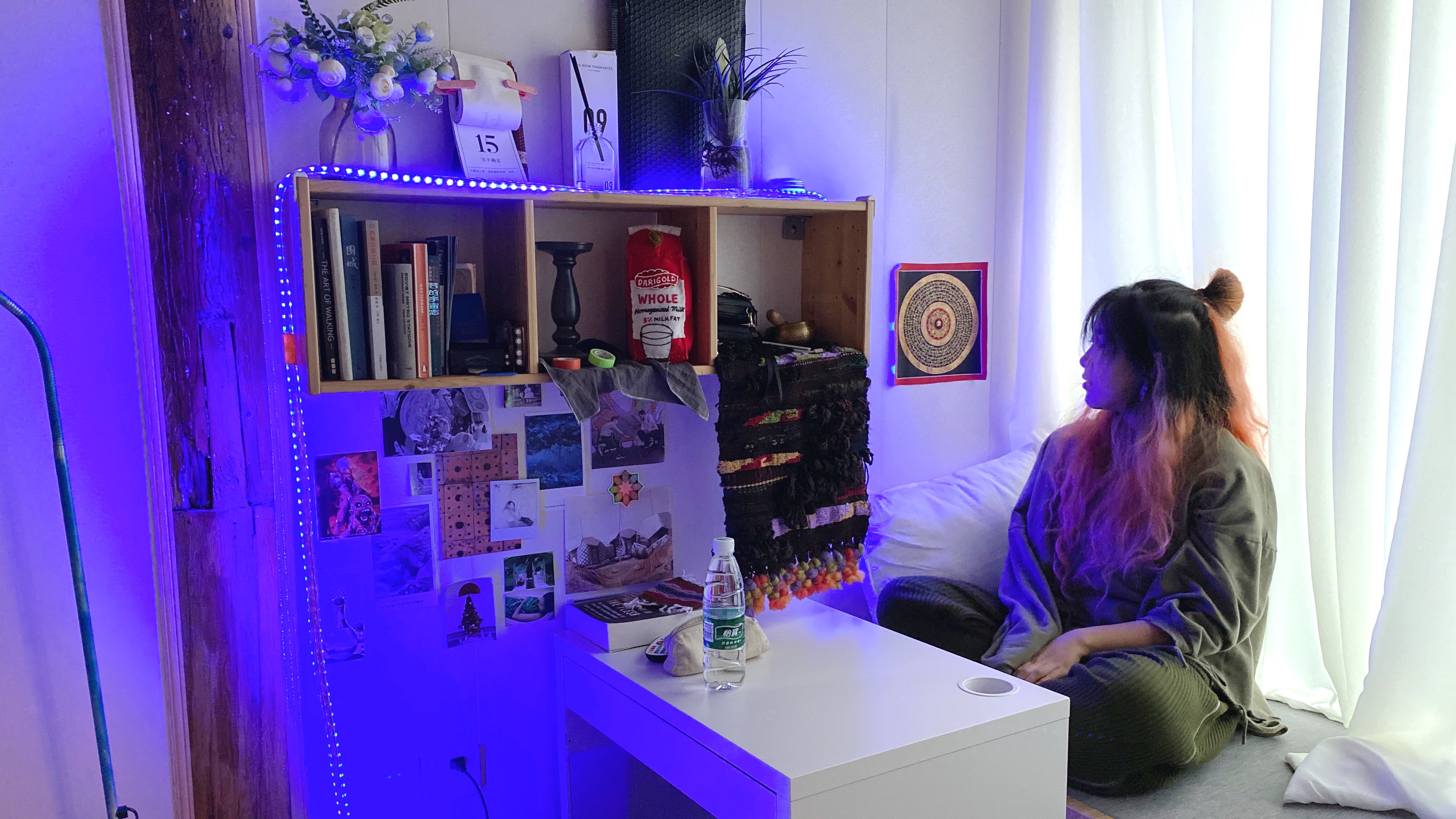 I loved this corner in my room :)
reflections after moving out
I really, really loved the themed community I sort of built in this period of my life. It was a kind of community I've wanted for a long time.

I felt the happiest & healthiest for a month. I was going to dance lessons a few times each week, cooking some of my meals, hanging out with friends who were genuinely so cool and shared many mutual interests wiith me, going to art events, while also spending some time on school work (but school wasn't the priority, because of all the things I had to explore outside of school), exploring professionally by going to the doc workshop and overall meeting people in XR, game, art, etc, through my friends.

I felt that I was on a right track, and all I needed to do was just continuing with what I have been doing. I felt peaceful, loved, loving. Everything made sense. Magic was happening every other day. I was just so immersed in this bubble, mentally and physically, that I couldn't even manage to take time to properly maintain communication with my friends from pre-2020-fall... I really wanted to cherish the precious opportunity I had to do things I loved with people I appreciated *in the same physical space*, as opposed to virtually.

As I'm writing this update right now (Jan 31, 2021), I still feel that there's a little community that actually was built here... Just yesterday some of us were talking about (un)conditional love in our WeChat group and sharing relevant links.

Like what I would say with the first co-living program, building communities wasn't something I previously attached to my identity. During my gap year, I was definitely excited about hosting small gatherings for my creative friends when I go back to Princeton. But bringing people together from bajillion different schools with different majors, living together and nourishing an organic group, as it happened especially with mArTechphysics, were not things I specifically envisioned.

I actually still don't want to make it a part of my core identity. Beautiful communities cannot be forced into existence out of my own will. I want to just pay attention to the forces around me, and nurture things naturally, allowing them to grow or die (or rather, enter into other cycles) as they do.

Since I was taking the documetnary class, I had my camera with me all the time back in October. It became tiring or limiting, for many reasons. So with mArTechphysics, I didn't do any documentation besides taking some photos with my phone. It's nothing official. Just a group of people, chilling in a space that will be occupied by many others after one month. We will go on to different paths, and I'm not sure how many of us will meet each other again or work with each other in the future.

But, what happens to us in the future doesn't determine the value of the time we have already shared, which was immense for me.