34

a pause

,,,,,,


a start

......
(again)


3.17-3.

28
In some funny way, Philadelphia feels like a home to me. When I saw a Wawa sign on my Uber ride from the airport to my bnb, I felt cozy.

I built a whole new reality for myself since I came to the States to study six years ago, so my actual home--Beijing--no longer is where I feel the most comfortable in being who I am.
Philly represents a self-established home for me.

Unlike Exeter or Princeton, two places I spent the majority of my time in the States in (for high school, then college), Philly was the first US city where I rented a room and lived for an extended period of time (8 weeks). This was just a few weeks after I got out of school last May, so it was strange to go back to where my gap year started.

The second half of March continued the momentum of "shit going down" from earlier in the month. By some day in between this period, more than 43% of the US population had been advised to stay home.

I finally arrived at a place to *really* settle for a few weeks, and since I was self-quarantining in my bnb, I also decided to start building new routines and find a general new direction for the new stage of my gap year, after all the previous plans cancelled and I was left with no idea of where I would be and what I would be doing.


👽
My friend Stav randomly called me on my first full day in Philly. It had been a long time since we last chatted, so it felt really nice to catch up.

At some point he asked me if I had gotten what I wanted from the gap year. I thought for a bit and said "yes and no."

I largely got what I originally asked for from the gap year--the skills I wanted to have, a super meaningful long term project to work on, the feeling that I could finally talk about my artist dreams without sounding like someone who only daydreams, etc.

But I had thought I would get a lot of peace from achieving these things, and I didn't get that. So I realized I asked for the wrong things. Maybe I should look more inward to understand how I could get the inner peace I wanted.

And now that my previous plan, which would fully occupy my entire schedule before the fall, has been postponed to the next year, I can finally focus on finding out what to do with getting what I really wanted, ultimately, from the gap year.

So, in some way, I'm glad that this quarantine is happening. Most people are forced to stop. While we are trapped wherever we are trapped, and boredom is inevitable,

we get this time to reallly be with ourselves.

Questions we normally don't get ourselves to think about have a much stronger presence now. I'm curious to find out what will come out of this for me, and for the rest of the world.


back in Princeton for a day


I originally planned to self-isolate for at least a week before I go to see my friends at Penn and Princeton. But Thursday my friend Alex proposed that several of us drive to his house in South Carolina that weekend, and self-quarantine together for a month or so. I had only booked my bnb to April 4th, and this sounded like an incredibly exciting idea to me. So I was on board (although I did wish I could spend more time with my Princeton friends).

I then decided, very last minute, to visit a few friends at Princeton the next day, just in case Alex and I actually were going to leave that weekend.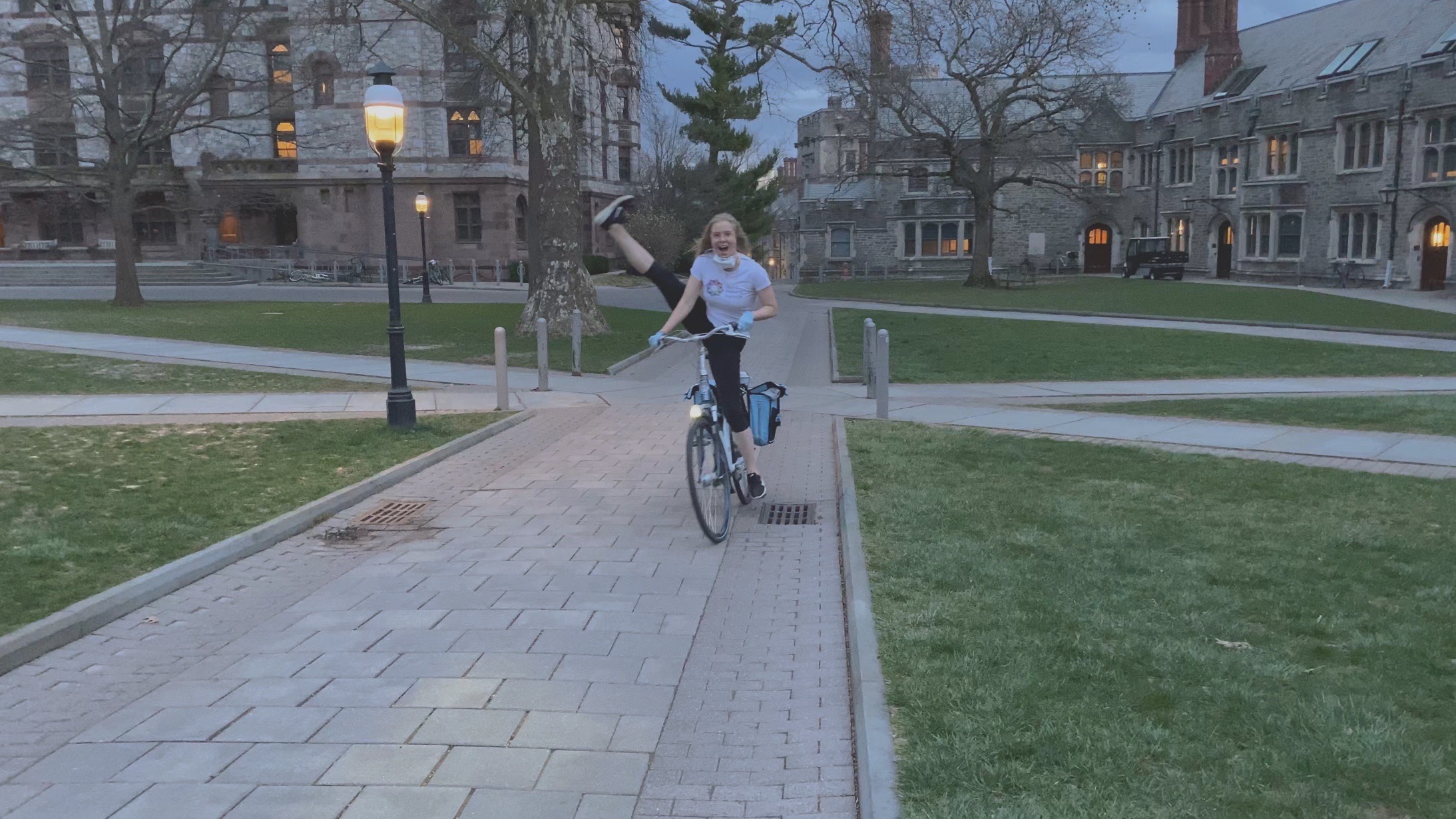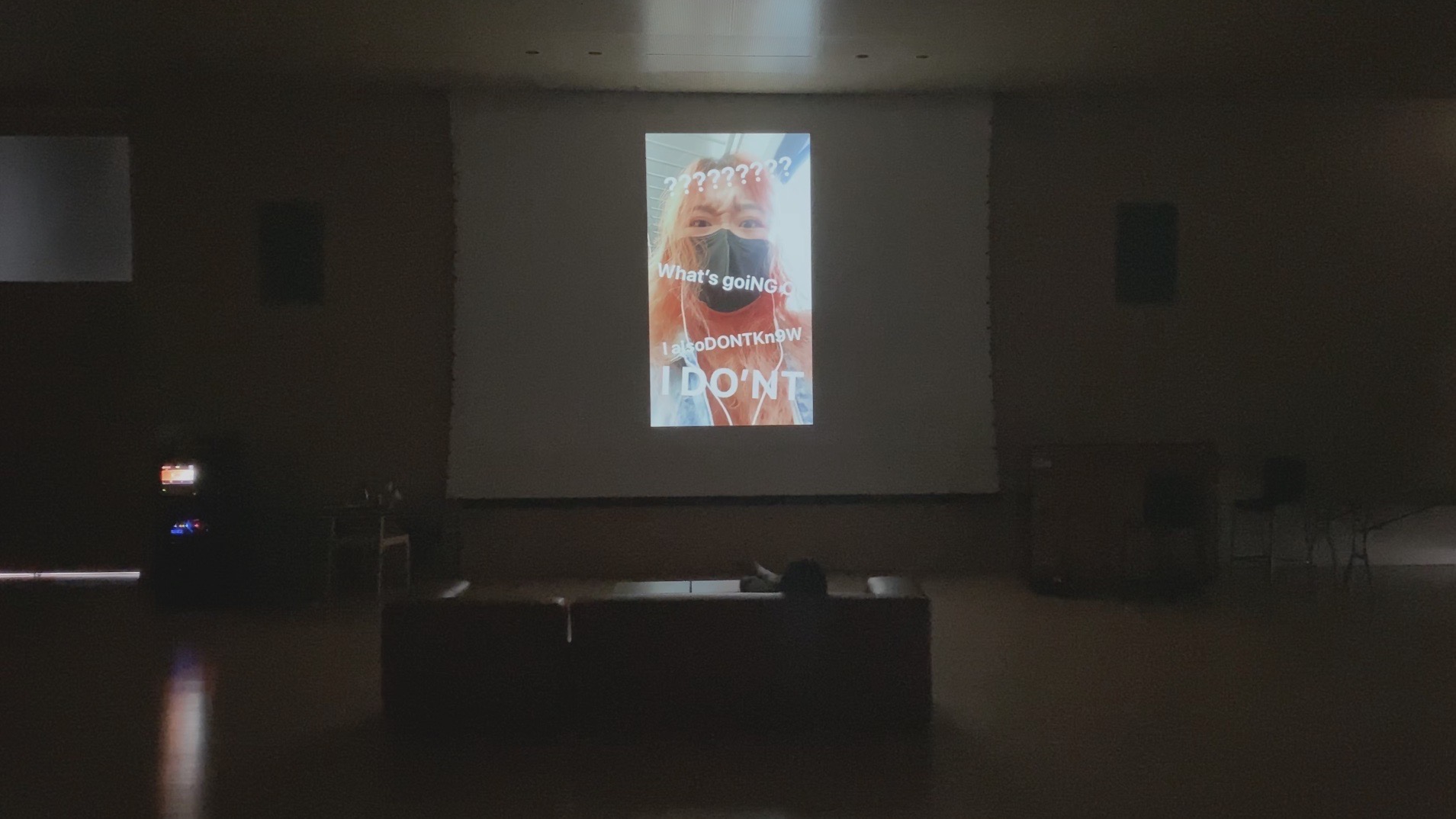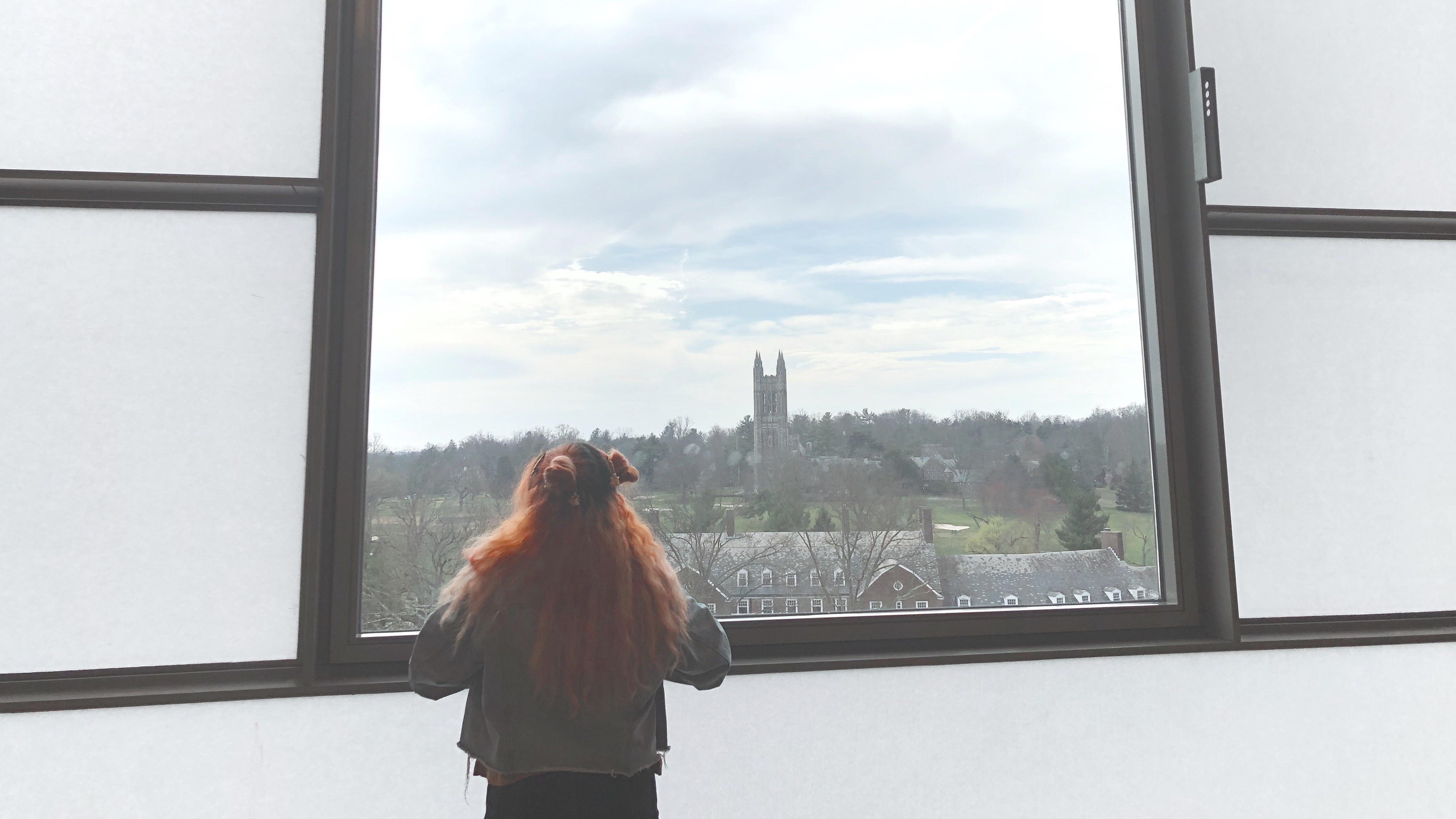 Visiting Princeton for half a day was less strange than I thought it would be. It didn't feel like anything changed, really.

Elie and I hung out in the Lewis Center. I got the Tacoria takeout I had craved for months, and we had our late lunch in one of the library rooms. I got to climb up to the top of the bookshelf again, which felt nice. Then we went to a bigger room with a projector, and Elie played videos he took from the week before, when people just learned classes were moved to online.

We met up with Vinny, then Elin, and just hung out as a group around the Palmer Square and the northern part of the campus.



I felt very peaceful after visiting my friends.

I felt
emp

owered, and somehow confident that, when I go back to school this fall, I would be able to stay confident and true to how I want to be in the middle of the hectic life at Princeton. I was glad that I had the documentary project to keep me engaged in a context that was outside of the academic system. And I was just excited to see what I could make out of Princeton when I go back this time!


🧘🏻‍♂️
hello, Alex. goodbye, Alex


This is a sad story. Alex and I became friends in early fall of last year after we started skyping, almost at least every other week, because of the documentary I started making. We had met each other twice, once at Envision 2018 and once at IPS 2019, but we didn't really talk each time.

We have been trying to meet up, but Alex missed me by a week or so when he went to London early January. Then we missed each other again when he didn't make it to his flight to China on January 24th. I got my bnb right on Penn's campus so that it would be convenient to hang out with him, because we somehow became really close friends after months of video calling. We were getting so excited about finally meeting up in person, and then his family and his girlfriend's family decided, the day after my trip to Princeton, that it would be better for him to go to Spain with his girlfriend that night (Saturday the 22nd). His girlfriend Janis lives in Spain and her parents work in medicine, so they would be good at taking care of both of them while Alex's parents are away in China.

So, an hour after I saw Alex's message, I showed up at his place. That was just three to four hours before he had to leave for the airport. I recorded a video of him talking about his room, watched him pack his stuff and said goodbye to him as he permanently left his room near Penn's campus. Alex just graduated in December. Where will he be based next, after the quarantine? No one really knows.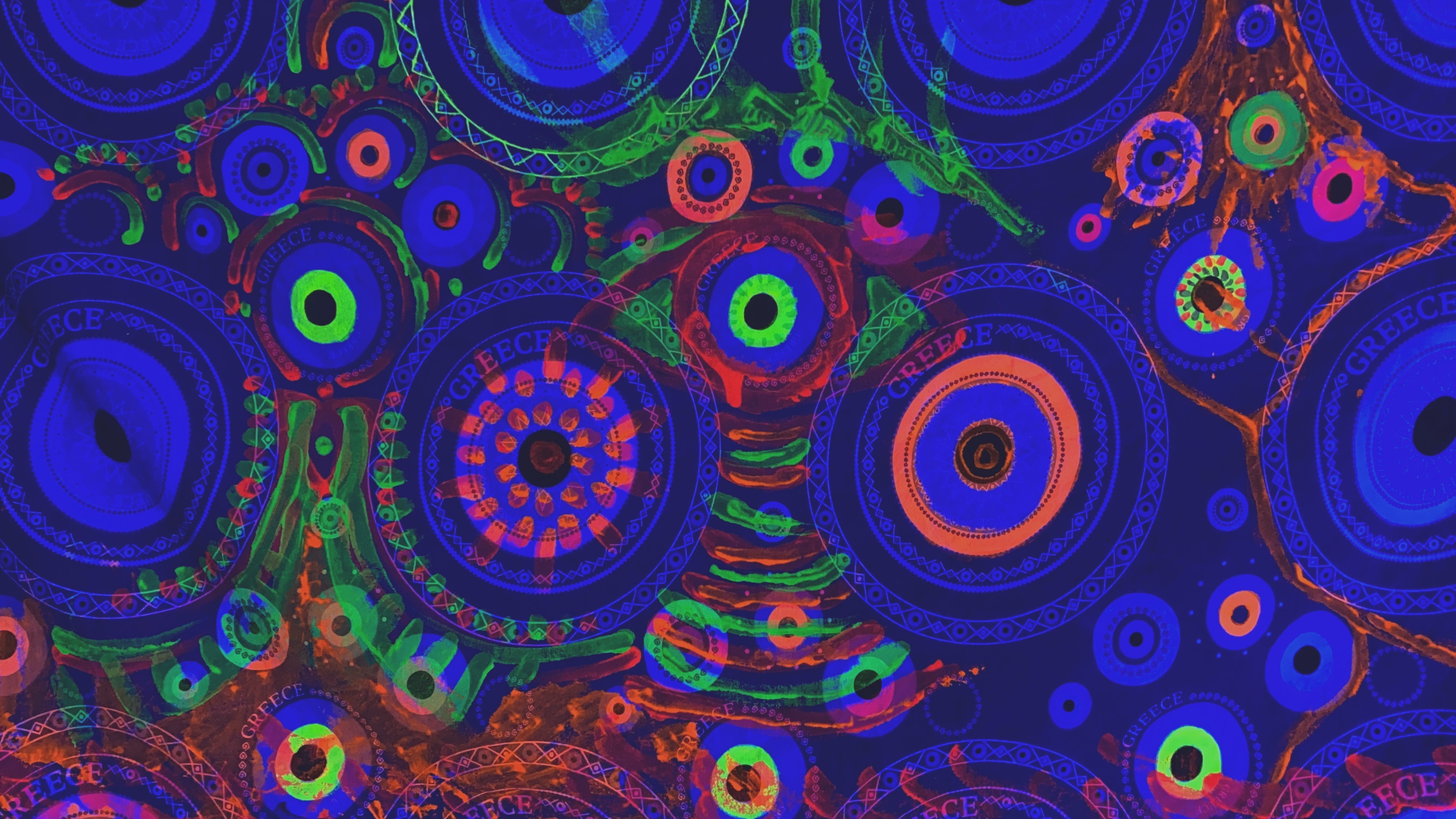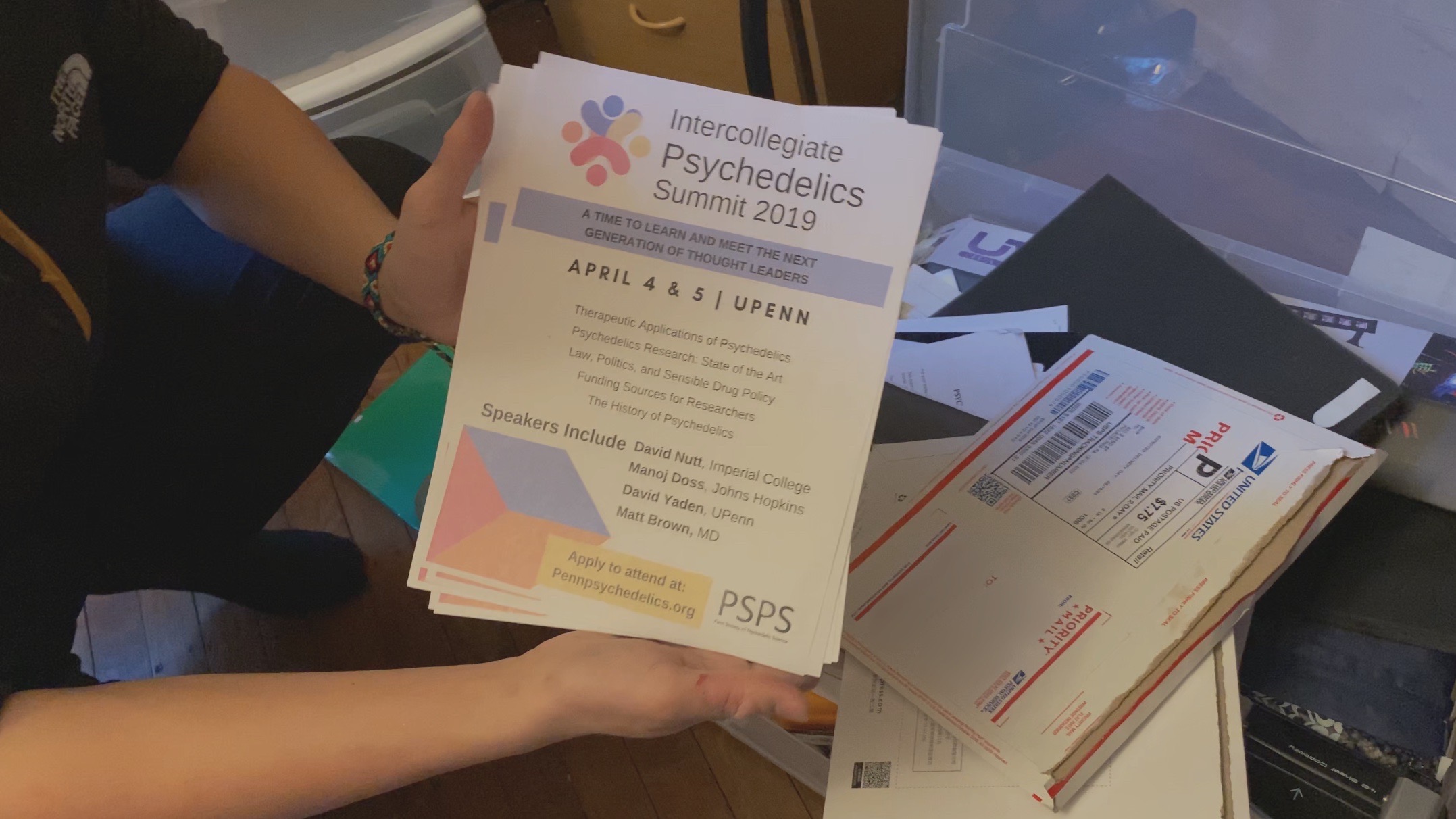 That night, Zuck and I called. At some point Zuck brought up the idea of

being intentional with everything we do

-- pay full attention to whatever we do at the moment, whether it is cooking food, calling a friend, or reading. It would slow down the time as we experience it, and ground us to the present.

I thought it was the perfect thing to hear for me at that moment in time. Alex had just left, and I couldn't just go to Princeton every day, so I should really start thinking more about how I want to make use of my time alone at "home" in the upcoming weeks, wherever I will be after April 4th (the last day my bnb would be open. I had no plan after that date)

Below are some thoughts and outcomes of my reflections from the next couple of days.
Creating the reality I love

One thing I have consistently reflected on for a long time, is

how to build the internal reality I want

, and how anything I do externally could help.

This became a more intense wish of mine after the coronavirus outbreak became more and more serious and I noticed just how much I did not want to go back to Beijing to be with my parents at all. I would rather float about between cities and even countries by myself, not necessarily knowing where I would be next and for how long, than to go back to my actual home. It is not that anything seriously bad is happening to my family. Not at all. It is just that I feel like such a different person from who I was six years ago, and my home environment is so different and disconnected from my current reality, that I always have to fight to retain the mindstates I want to be in when I go back home. Every time going home it got worse. Last time I deliberately maintained a sleeping schedule the same as London's time zone.

What are the objects, actions, people, readings, topics, that would inspire the internal reality I want to have, wherever I go physically?

Towards the end of my residency in Mexico, I actually started making a list of the activities or topics that I found induce peace in me. So far this list goes:

reading about people like Freeman Dyson (visionary scientists who have very varied interests, their wild thought experiments, the connection they make between their main discipline and things like religion and psychology, their anecdotes with other visionary scientists), especially physicists who were or are at the Institute for Advanced Study. The geographical location of IAS (right next to Princeton's campus) helps a lot
Hannah Arendt - banality of evil - self
documentaries (or other media) like Particle Fever
artists work with scientists in an intellectually rigorous way, like

David Lang

-- the

artist-in-residence at IAS. This is great to have at the back of

my mind to remind me of my long-term goals

learning and practicing 3d softwares like Blender, Cinema 4D, and Maya

dancing to music and watching dance videos by my favorite choreographers to get inspirations for ways to explore movement in space

being with friends
play the harp. Even though I can't do this during the gap year, it has always been a stabilizing and peace-inducing activity ever since I picked up in senior year.
🏚

Recent routine
The routine I have sort of kept in the past week:

1. Gratitude journaling. Every day when I wake up, I write down (with a pen) 5 things I am grateful for. I start each item with "I am grateful for..." and explain with a few more sentences why I feel grateful for it. Then I read the whole list out loud and reflect on my gratitude, feel it as deeply and fully as I can.


2. Dancing. Sometimes I followed tutorials and sometimes I just danced freely.


3. Blender tutorial / playing around with other softwares. One day I just played with AR filters for maybe 2 hours, then had some fun making a very ugly & simple AR filter (not shown here) through Spark AR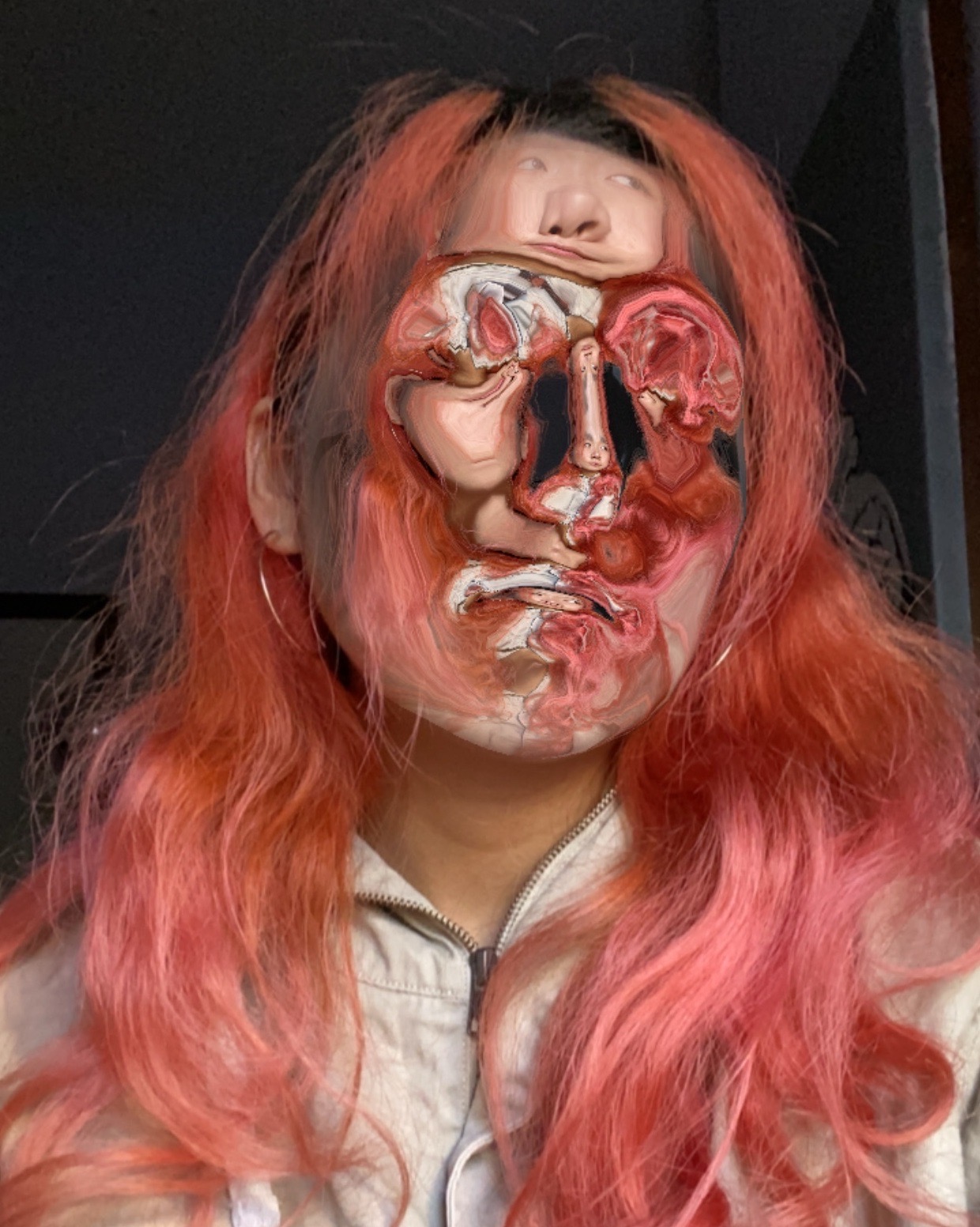 4. Call a friend. I stick to 1-2 friends per day for longer calls (at least 1 hr). So while I wasn't calling multiple people a day, almost each conversation I had went to somewhere deep. I suppose this will change, though, because I have been doing a lot of catching up recently.

I wish I had taken a screenshot with everyone I talked to. I kept forgetting to do so! :(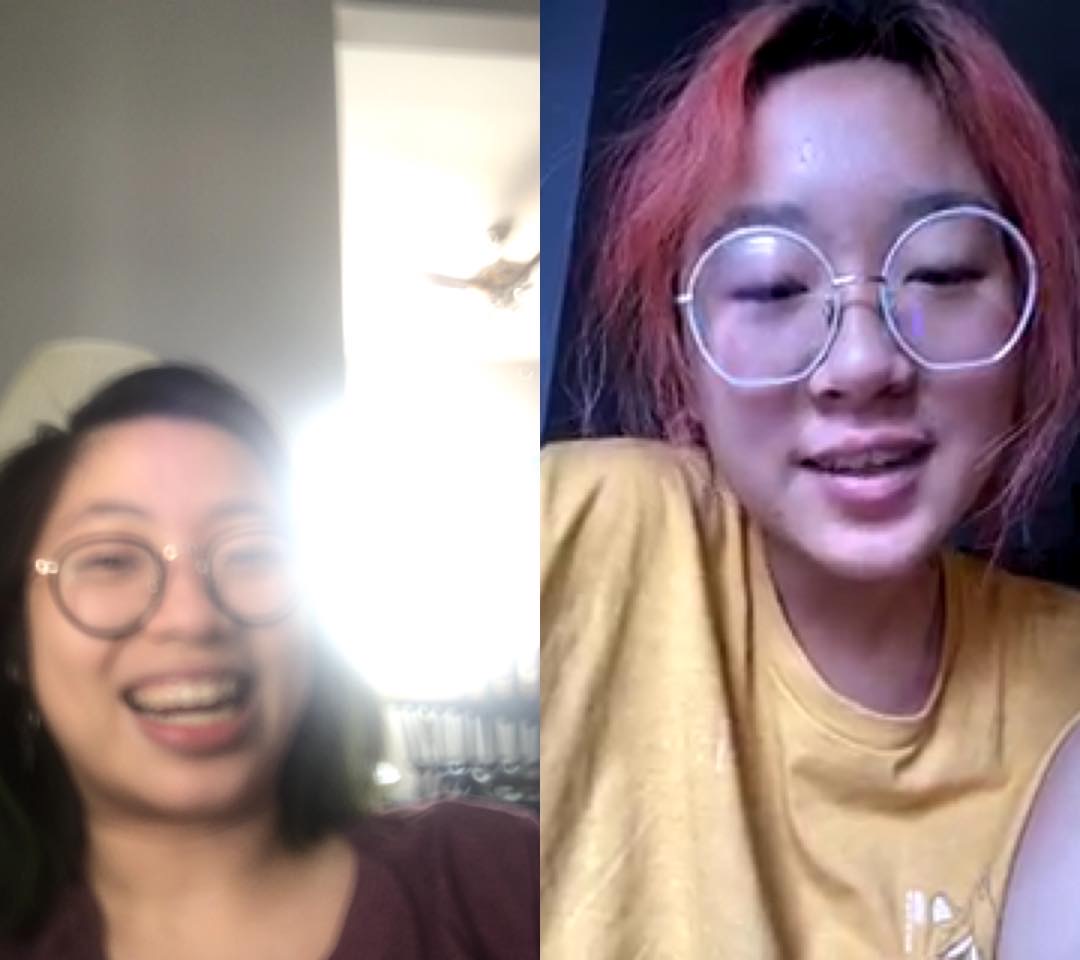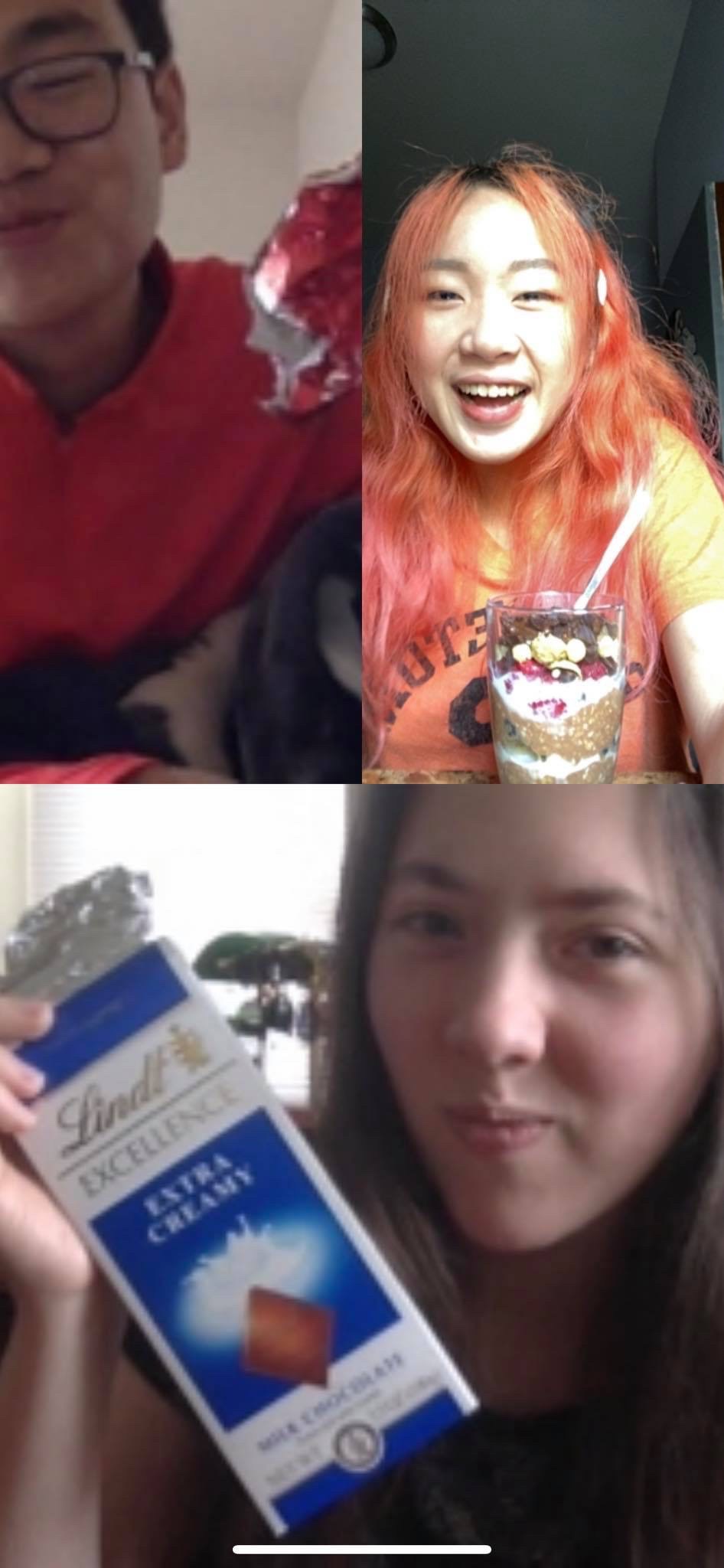 5. Read. I have been reading The Social Transformation of American Medicine, which is a fat book about the history of American healthcare system. I bought it after a grocery trip the day before I went back to Princeton, because I had trouble sleeping at night and was always switching between coronavirus-related videos and non-coronavirus-related videos on YouTube... So I thought I may as well use my nervous energy around coronavirus to read something relevant, so I picked up this book. It is intriguing to learn how the medical profession's authority and prestige got established. I have been reading about the early 19th to mid-19th century, and back then apparently being a physician was among the least desirable jobs that weren't manual labors back. People mostly studied Latin and philosophy before they spent a few years in medicine and get licensed. The general households in the US did not buy into the doctrine of the medicine discipline based on empirical analysis (like the French who looked to autopsy to study the human physiology). It was not yet a profession, not yet a system, and people relied on themselves or local plant-based healers. Until urbanization happened and as the timeline moved towards the end of the 19th century, and people began to rely more and more on those with specialized training...



A question that intrigues me is

the boundary of what constitutes science

, who keeps the boundary, how they keep it, and everything the concept of "science" entails. When the two dominant kinds of health workers were not doctors or physicians, but plant-based healers and homeopathy practitioners (early 19th century US), those people believed they were doing science. It is a topic that came up a lot in the HIS391 I took freshman year, when we looked at pseudoscience and our professor made the point that no one who practice pseudoscience thinks they are doing fake science.

Also, as I am writing, I am reminded of

the Pauli effect

that I read about this week. The linked wikipedia page genuinely had me laugh out loud a few times. The stories went that when the Nobel-winning theoretical physicist Wolfgang Pauli walked into a lab or was near a lab, expensive machines would break for no reason. Pauli genuinely believed in this, and so did the Otto Stern, another Nobel-winning physicist, who banned Pauli from entering his lab because of this... I would have taken this synchronicity as a superstitious belief in a reality I make up for myself, but seeing how crazy smart people like Pauli and Stern genuinely believed in it, it is making me reconsider how seriously I want to take the concept of synchronicity.
🎡

Playing with Blender
I started learning Blender! I have mostly been following tutorials from YouTube to get something quick done while I become more familiar with Blender's workflow.
🔮
New plans ??? for the year
It is honestly very comical to me how many times my plans have been changed in the last year.

I love making plans, but I also secretly enjoy having my plans changed by some unforeseeable forces so that I have to make up new plans on the spot and have the space to be surprised.




When I sat in a Harvard course (I emailed the professor 7 hours before the 9:30am class and she let me in temporarily for the day--so cool of her to do this!), I felt all kinds of familiarity coming back -- the things I loved and hated about being in school.

This subtle feeling of familiarity reminded me of the things I loved about my gap year, in an almost nostalgic way: when I roamed around on the streets of cities I wasn't familiar with. Philadelphia, Kathmandu, London, the central part of Bejiing (which actually helped me update my feeling about the city), Shanghai, Park City, Los Angeles, Oaxaca City, San Francisco...

I started to appreciate my gap year more, although I also want to remember that the subjective experience at many, many moments of the year, when I was in beautiful places and doing new things, I was not happy and felt like I was rushing through everything. I was not staying in the present, had more frequent breakdowns than I would have in school, and couldn't emotionally connect with the intuitive answer I came up with to the question of "what is the point of it all"?

As I engaged with these thoughts after the Harvard course, I felt that I couldn't be more grateful for the opportunity of this huge pause. Why not take the quarantine as a start to a new phase of my gap year and my self exploration?

So I decided that I want to be more intentional with the external structures I seek out to impose on my life.

I want to go with the flow and be free form a little more.



That means, I want to be careful with the programs I find for myself. The whole of Princeton will be a systematic and consuming program, so I may as well take advantage of being outside of the Princeton program while I can.

Here is my "plan" for the upcoming months:
1. read, all the books I wouldn't have time for in school.

Below is a screenshot of my Notion page for the readings.
2. create in a less structural environment, and see what arises.

Do tons of little projects that may or may not finish. Play with the softwares I have on my laptop: Blender, Maya, UE4, Max/MSP, C4D, Adobe suite, Substance suite, Ableton live, etc.
I just want to let boredom and curiosity lead me, and see where I will go. Collage, 3d modeling, AR filter, experimental sound art, video work, animation, environment design, illustration, whatever the hell I want to do.


3. A lot of inner work.
1. Gratitude journaling to stay grounded to the things I have and appreciate
2. Intentionality, as I mentioned above.
3. Write more in general. I downloaded Ulysses and started journaling something every day in there. I also got back to using Notion again to organize my life,
4. Be with my friends. Exchanging ideas with them alone is the best residency I could ever ask for. I feel so grateful for the friends I have, and I have so much I can learn from each of them. I have been alone this whole time, and I'd really love to physically be with a few friends for a bit of the gap year. Nothing is completely certain yet, but I will do my best to make it happen.




I don't want to completely get rid of structure in my life. I still want relatively loose structures that allow a lot of self direction and I think loose structures are particularly great for this time.

So, starting from April, I am doing an internship with the

Qualia Research Institute

. Calling it an internship feels weird, because QRI feels like an intellectual playground to me. I know some of the team members, and my internship coordinator, Zuck, is also my friend. So it just feels more like fun than work, to start doing the readings he assigned me for the topic I proposed, which is about awe-inspiring games. I don't know what I will be researching on specifically yet, but I look forward to seeing how this unfolds~

When I conceived the project idea for the QRI internship, it just became clear to me that I also wanted to design a game. I'm not making the game, but writing some kind of proposal document that will outline the setting of the game, the storyline, the gameplay mexhanism, the environment design, etc. I will do some art for it, too, using some of the 3d softwares I am trying to get better in. I immediately talked to Elie about this, and he and I said at the exact same time if he could do it with me. That in-sync-ness felt awesome and I am excited to do a little side project with him.

Maybe I will travel more. But I should also be prepared for the possibility that I will have to be "home" for most of the time, wherever the home is.

1. On the 24th, I got an email saying I was accepted into

the 2021 Arctic Circle Art & Science expedition

! This is a 3 week journey into the Arctic Circle with the goal of bringing creative people together, regardless of their disciplines, and let them be inspired by the Arctic Circle to create something in the future.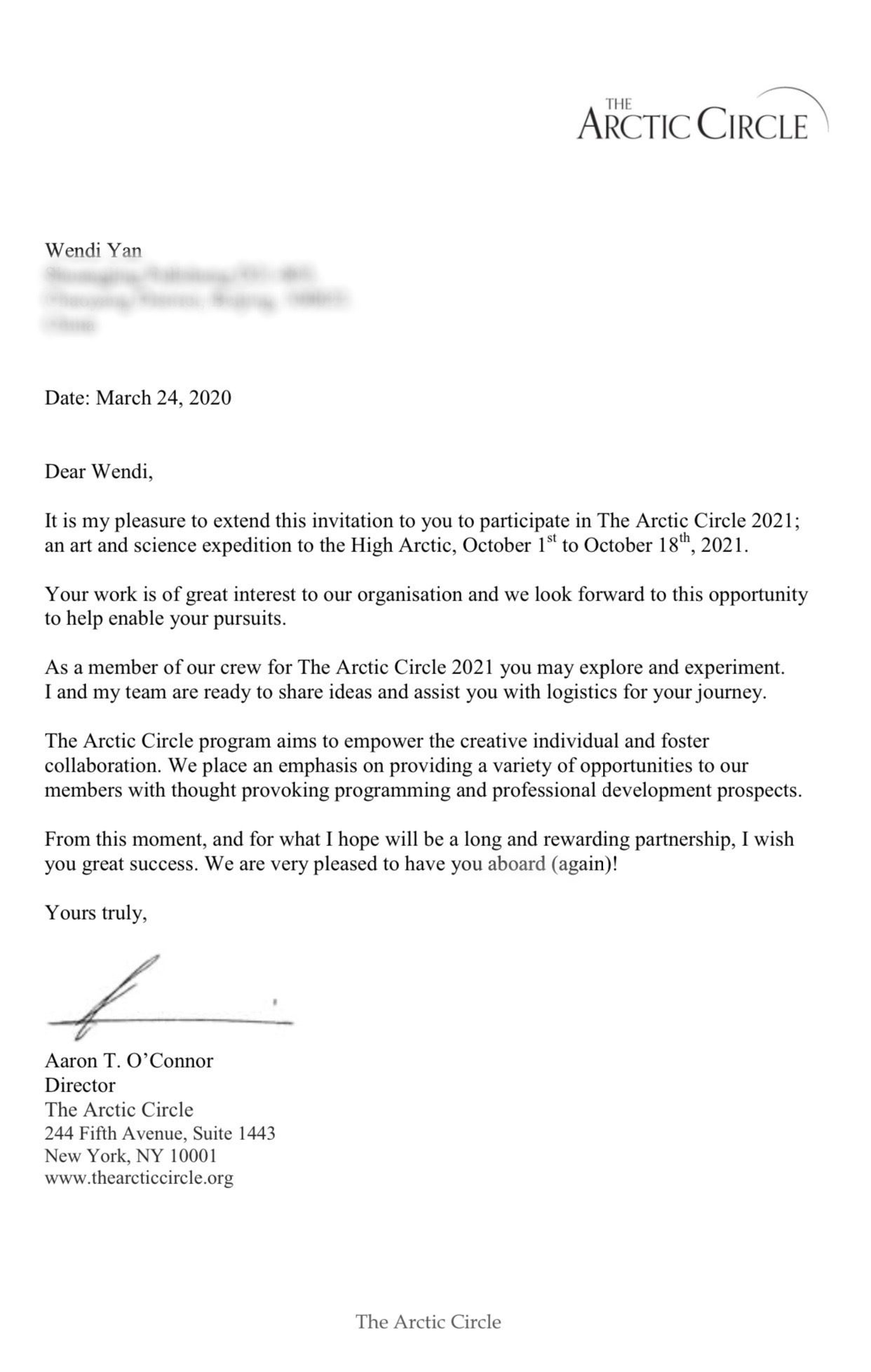 This is a huge thing for me because I really have dreamed about this opportunity for almost 3 years now. Ever since I found out about this residency, I knew I wanted to do it, but I thought I had to wait till at least I graduate from college, because every participant in the residency looked like they had already achieved so much in their lives.

I finally took the courage to give the application a try this year, and I cannot believe I just got this opportunity! This actually feels so surreal to me.

I really love that I have a whole year and a half before this trip happens. When I applied for the program, I proposed to do a project that combines virtual environments (possibly in VR) with documentary -- two areas I am very interested in. But I am definitely not nearly at the level I want to be at for the project I want to do through the residency. So now I just feel like improving on my skills as much as I can now before I make the journey next year.

This also means that,

it is very likely I will have to take another gap year after sophomore year.

I believe Princeton doesn't let people do gap semesters in their junior year because of the schedule of junior independent work. And I am also pretty sure skipping classes for 3 weeks would actually make me fail all of my classes. So while I will try my best to fit the expedition in my curriculum somehow, I am also getting prepared for the possibility that I will just have to take another year off.




2. Something very amazing but out of the blue happened on the same day I received my Arctic Circle acceptance letter: I received messages from the

composer Gary Gunn

on Instagram. He stumbled upon the sound art piece I made two months ago in Shanghai, which I only posted recently, and he thought it was good! He commented and then messaged me to tell me it was very nice work, and encouraged me to keep it up!

What??

I don't think he was aware that it was my first sound piece ever. While I personally loved it when making it, I don't feel confident about my judgment on anything sound-related, which was why it took me 2 months to pick up the courage to share the piece on my instagram.

Compliments from someone like him was a very important initial push, for me to give myself the permission to create more sound art. It is like five years ago, when my high school art teacher Mrs. Lewis told me I could be an artist in the future, and her encouragement got me think about pursuing art seriously for the first time.

I feel very grateful for Gary. His little act of kindness was qutie a huge deal for me, and I am excited to explore sound more confidently in the future!




3. Various kind messages and emails I received from people for whatever reason. Whether they reached out out of the blue, or we were calling, or whatever. Their words were just so kind, and it was so nice of them to go out of the way to tell me how they appreciated me and/or my work.



Since I came to Philly, I started to pay more attention to everything I have and all the kind things I am already receiving.

And more importantly, I want to respond positively to the positive things I receive. That has been hard a lot of the times in the past, when my response to friendly compliments was often denial and an urge to escape, as I thought "this is not me" and felt the pressure to keep up the nice image others perceive in me unbearable.


🥟
Well, actually...
SOOOOOOO, Friday (the 28th), I was in the middle of calling my friend Cammie when I got notifications from Alex saying "let's go to SC this weekend," which would be the next day. Then I had an emergency call with Alex and his girlfriend Janis somewhere before 5pm, and essentially decided that I was going to fly to Greenville, SC the next day. Alex's sister would drive him from NC to SC before my flight, and they would pick me up at the airport at 8pm of Saturday.

I persuaded my parents that this was a good idea, and answered all sorts of questions they had about the stay-at-home order and quarantine policy. Finally made my dad purchase the ticket at midnight my time (I couldn't do it on my iPad for some reason, and my laptop was not connecting to the internet).

Saturday I packed my stuff and headed to the Philadelphia International Airport, not fully certain that I would be able to get on the flight.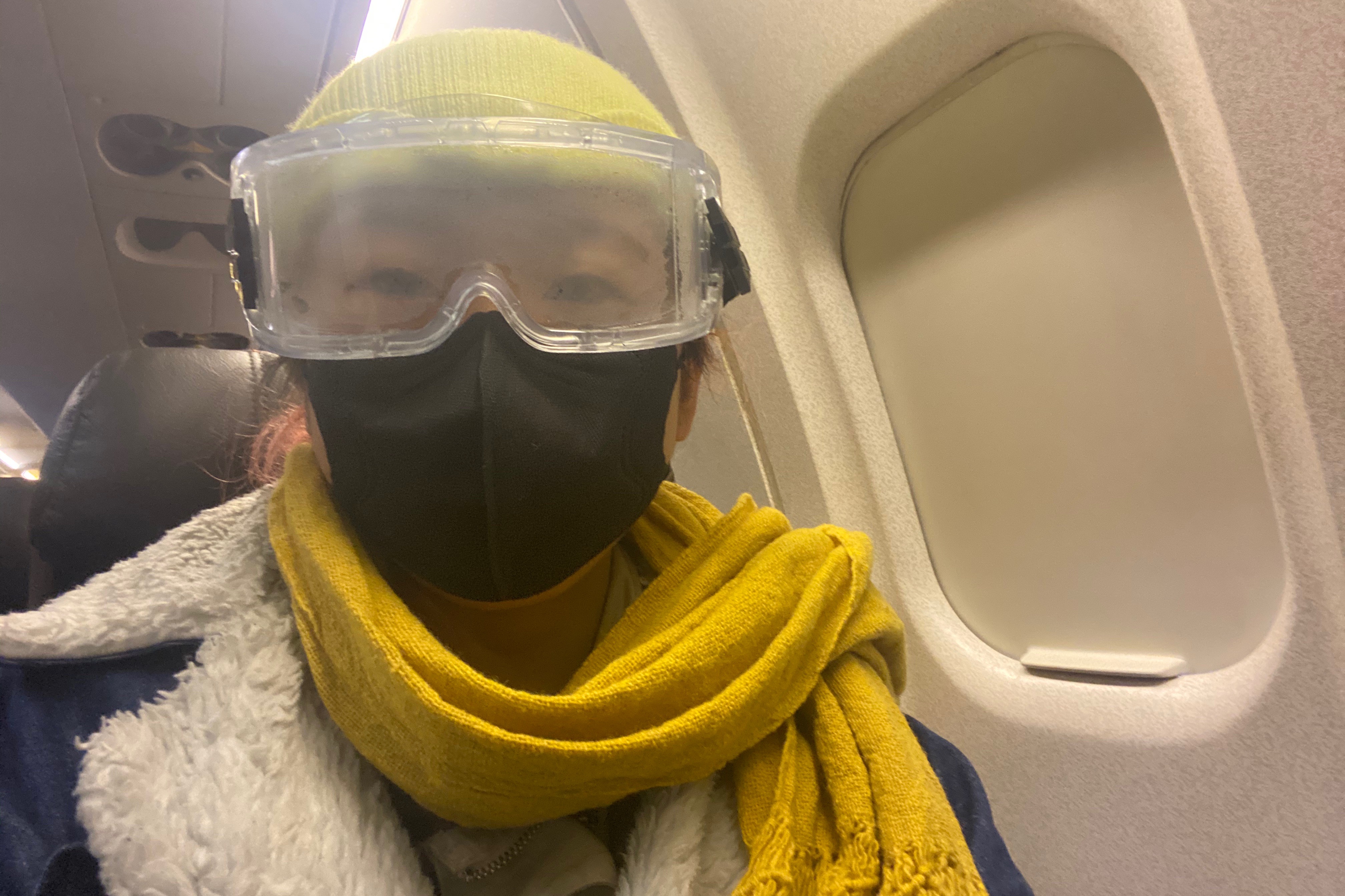 The next thing I knew, I was sitting across the table from Alex, eating dumplings while keeping our definitely-more-than-6-feet distance.

One thing I really appreciated, apart from just the fact that I was even able to be here, is that Alex also wanted to record this period of our lives like I did.


Right before I left my bnb in Philly, I watched

the self-quarantine edition of "day in my life"

by Jasmine Chan, which was very aesthetic. I thought to myself then that I should start taking more videos of my life now, at this time that will for sure be in the history textbook a hundred years later.

So Alex and I put out our phones (which are the exact same kind in the exact same color, and we didn't know!) and recorded each other while we had a conversation about our emotional journeys in the past couple of weeks to 3 months. It ended up being 2 hours long! That felt very nice.

I am curious about what memory we will create together in the next month, and what we will record together. But first, we are self-isolating in our separate floors for a week...

At the time of finishing writing this update, which is 6:13 pm ET of March 29, 2020:
world COVID-19 cases: 719497

USA COVID-19 cases : 140256