30
```
WENDI AT
SUNDANCE

25
02
JAN----- FEB
So many crazy lovely things happened in this week that I wll remember forever.

Here are some of them, in chronological order.

DAY 1-------------

JAN 25
After almost not passing the custom, I got out of the SLC airport right around sunset. The view on my way to the Sundance venue was absolutely breathtaking. I just hadn't seen mountains for so long -- I love being able to see mountains in a city because they make me aware of nature, as humans should be. My Uber driver was really curious about my documentary and shared with me his own experience with growing up in a Mormon family, having anxiety, and his marijuana use. He felt sorry for "oversharing" his upbringing, but I told him I appreciated him sharing and that it actually coincided with a friend of mine's story, which I hope made him feel less sorry.


I went to check out the New Frontiers program, which was a whole bunch of VR experiences. I got to experience My Trip, which was a simulation of a bad DMT trip, and Living Distance.


images taken from Sundance's page for My Trip




A volunteer told me about Spaced Out, an underwater VR experience, and I got so excited I decided to show up 1 hr early the next day to make sure I get to experience it before my shift. Two hours later, I got an email from my volunteer coordinator saying that my shift next day is at the greeting desk for Spaced Out. I screamed and laughed in my heart, for this beautiful synchronicity.

I was feeling incredibly peaceful and grateful all night to even just be in Park City. I had emailed maybe 20 film professionals at least a week ago in hope to meet up with them at Sundance or in LA, and none of them replied to me. It felt discouraging to me when I was alone at home in Beijing, but all that disappeared when I arrived at Park City. I thought, if I just be a regular volunteer and nothing fancy happens to me for the next 8 days, I'd still be very content.


Oh how little I knew the craziness that'd happen to me the next day, and the days after...

DAY 2-------------

JAN 26
shift: greeting people right outside Spaced Out @ Sundance HQ

My first full day at Sundance smacked me with a load of amazingness I was not prepared for.
I showed up an hour before Spaced Out opened, and saw the two artists of the VR testing the VR experience with their friends. So I walked in and introduced myself to them (Pyaré and Sutu) and Stephen, the founder of BallastVR (the VR headset used in this experience).

Then they let me try the VR out. The Spaced Out team provides swimsuits. The participants get a board tied to their waist and the board is attached to something planted at the bottom of the pool, so that the participants don't have to do anything to float. The VR goggles are basically snorkeling goggles, and the sound is designed in such a way that you can hear the sound fully & all-encompassing when your ears are completely immersed in the water.

Spaced Out is about traveling to the moon and back, with a dreamy and low-key trippy visual style. And the whole experience honestly kind of felt like a psychedelic experience. There were moments when I was flying up or descending, and because I was in an almost gravity-less situation (like in a sensory deprivatino tank), my brain was really tricked by the visuals into thinking that I was flying.

images taken from Sundance's page for Spaced Out




Then I went to the hot spring in the same space where Pyaré and Sutu were at, to talk to them about their artistic process and making VR art in general.

We talked for maybe 40 minutes then got out of the hot spring and said bye. About 15 minutes later, after I'd gotten dressed and tried calling my friends and failed, I went to the HQ lobby to charge my phone. Then I heard someone say "Wendi" and I turned around and Sutu and Pyaré were sitting at a couch right by where I was standing. So of course I went to sit with them and talk more. Sutu showed me clips from the three new VR films he made in the last year that are premiering at festivals soon, and they were SO COOL. I was so in awe of this artist's creativity. Seriously.

Then something truly unimaginable happened.

Sutu said Ai Weiwei was behind me. I turned around and my stomach started trembling: Ai Weiwei was sitting right by the corner of the lobby and no one seemed to notice him. Sutu and Pyaré asked me if I could ask Ai Weiwei to check out their VR, so after taking a few deep breaths, I took the VR goggles they gave me and walked up to Ai Weiwei. (Ai has a film shown at Sundance: Vivos)

It turned out that Ai Weiwei really wasn't interested in the medium of VR itself, but he bothered to ask me why I was at Sundance. Maybe it was because he was slightly confused why he'd meet a mandarin-speaking girl in Utah? I said I'm making my own documentary and wanted to learn about documentary filmmaking. So he asked what it is about, and I said "student psychedelic clubs at Harvard Penn Princeton UCL" and he was intrigued.

We ended up talking about documentary and art and psychedelics for half an hour.



He thought my documentary topic was really interesting and cool, told me to not think too much about the film's structure yet and just document, document, document. He thought my friends (in the doc) and I are the 1% that don't just seek safety and the regular routes.

He told me to not watch the documentary shorts because they are just student pieces. He actually even said "don't do art, do documentary," because art doesn't do as much to the society. The entire time I felt like I was treated as an equal, even though obviously I told him he was the very first artist that introduced me to contemporary art 5 years ago, and obviously I was seeking advice from him. But the fact that he was asking me questions, being curious about my project, and giving half an hour of his time to me, was not something I'd dared to hope for, and I definitely deeply appreciated.

It was a conversation that totally empowered me.
he posted me on his instagram!!

Then I actually started my volunteer shift at 1pm. My job was to be excited about the VR experience and lead people to the entrance of the venue. There was a volunteer before me. Her name was Julie and she kindly adopted me as her "Sundance daughter" when we had a good time chatting before and after her shift. At some point in the afternoon,
Liu Xin

,
the artist who did Living Distance (one of the VR experiences I did the night before), showed up with her friends, and I told her I'd been following her instagram for a year and really loved her work.

After my shift ended at 5pm, I hung out with Sutu and Mourad Bennacer (the sound artist of Spaced Out). We watched Coded Bias (a certainly important topic, but I felt like I got nothing new out of watching the doc) and got Mexican food.
DAY 3-------------

JAN 27
shift: greeting people in the membership space @ Sundance Co-Op
.
My job this day was to talk to people about the year-round education opportunities the Sundance Institute offers, the daily trivias happening at the membership space, and the bookmark wall about "what you stand for." Basically, I was socializing all day, which I loved.

At some point, the producer of a short film at this year's festival stopped by the space to take a photo of the poster of his director friend. When Evá (a staff) and I talked to him (his name is Sacia), we found out that he studied physics at Harvard, does jobs completely irrelevant to film, and this was his first time producing. I told him about my documentary, and he said honestly it doesn't matter that you don't have experience, as long as you put on your "white man suit." and "ask for double the amount of money you actually need." I laughed. I definitely had several moments during this journey of making the documentary when I asked myself to be "more rude" "more shameless " "less sensitive" than what I intuitively wanted to do, and found out things didn't get worse but almost only better.

During lunch, I read the Atlantic article on "the Miseducation of the American Boy" by Peggy Orenstein. It was long but so so good. I feel like so many problems in the society originate from a misconception of what masculinity is, a desire to live up to the image of a masculinity that is actually inhumane. Masculinity isn't and shouldn't be toxic. Our society just hasn't come up with a clearer conception of a mature model of masculinity. And we are not talking enough about it still.

Then I hung out with Jingjing and Yasmine, two friends from Princeton who came to Sundance for a few days. They came to the membership space during my shift, and we met up again later in the night. When we sat in the Atticus Cafe (basically the only cafe on the Main St of the festival), a guy who shared the table with us complimented my style and said I looked like a hip-hop artist. He and his two friends just started chatting with Jingjing Yasmine and I. It turned out this guy that started the conversation is a spiritual advisor in Hollywood and sort of does psychic things. So when we parted ways, he did a prayer for each of us. He said he saw me playing guitar and piano and doing lots of music things in the future. Ok. Let's see.

Also, I received an email from a CEO of a company this day. She'd somehow learned about my documentary, and wanted to reach out to see how we could collaborate or how they could help. It was a little magical moment to me, because getting her email made me feel like I somehow am operating something professional. I still haven't had my call with her yet so we will see what that will turn into.



I stand for UNRESERVED UNDERSTANDING. After the psychedelic documentary, I want to do more documentaries or other work to seek complete empathy and radical understanding for people that might seem hard to empathize with. Unquestioning self-righteousness is a dangerous feeling that could bring up tremendous violence.
DAY 4-------------
JAN 28
shift: greeting people in the membership space @ Sundance Co-Op
+

helping out @ the media relations office


This was a really mild and slow day. People who came for the first half of the festival were leaving, so not many people showed up at the membership space in the morning. The media relations office was also quite and peaceful, especially so comparing to the craziness of the previous days, according to the staff that adopted me for the day, Jen. But I still had a lot of fun hearing Jen's food science degree from BU and writing my documentary's story outline.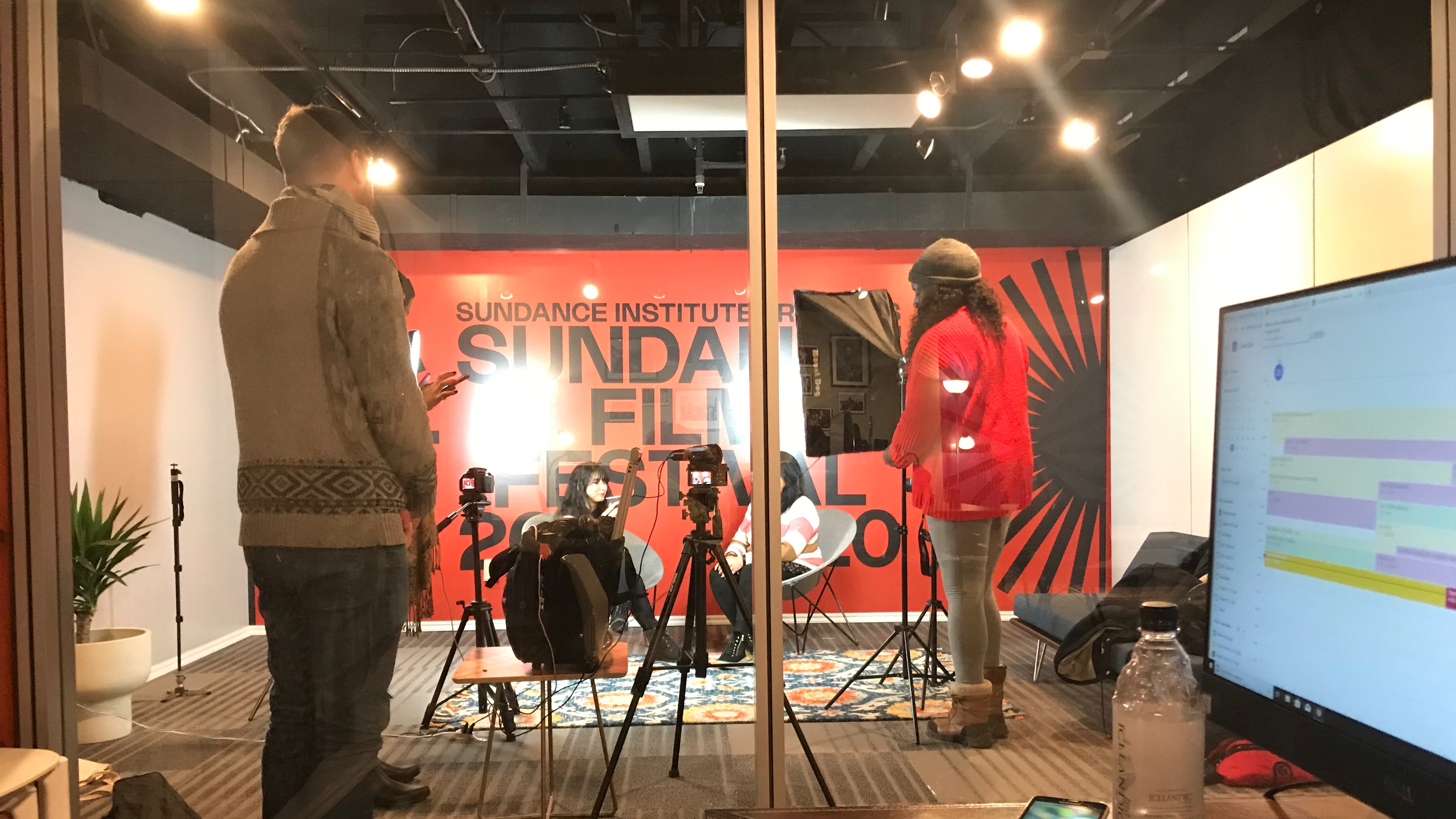 At night, I met up with Jingjing again. We sat in Doubletree's lobby and just talked about my gap year and her future gap year. I reminded her that not having a US citizenship would make it basically impossible for her to get internships during the gap year, because her student status is actually cancelled during this time. I somehow only realized this during the summer last year, but my situation was even worse because of my Chinese passport. But, I joked, then I just employed myself when I started making this documentary :D

She asked me if I wanted to do another gap year at some point before graduation, and I was dead certain that I will go back to school this fall and finish the rest of college without any more gap years. My reasoning was that I wanted this gap year to make me feel more established as an artist, and that goal had already been met. There are many things I love about being in school and I finally felt like I could enjoy them if I go back this fall. One thing I particularly miss is hanging out with a few friends without necessarily talking about "big things": just cooking food together or watching a movie in someone's room. It's such a simple pleasure that I crave and can't get at the moment.

When I go back to school, I swear to god, I will give so much more time to 1) meeting more people and just hanging out with my friends and 2) do art in and out of school.



DAY 5-------------
JAN 29
no shift

This was also a crazy day.

In the morning, I went to the Ignite Welcome Breakfast that includes a panel Q&A with three filmmakers of one doc and one fiction film from this year's festival: Shalini Kantayya (director of Coded Bias), Edson Oda and Jason Michael berman (director and producer of Nine Days). Sundance's Ignite package is for young filmmakers between the ages of 18 and 25, to learn about how to jumpstart their filmmaking career and meet other aspiring filmmakers. So this panel talk was tailored to those who are starting to make their first feature film, which was exactly what I needed to know.

As with most panel talks in this world, there was not enough time for the panelists to really dive deep into talking about their filmmaking journeys. But I did raise my hand at the end of the Q&A and dared to introduce myself and pitch my documentary as if I didn't feel ashamed for bringing all that attention to myself in a whole room of eager young individuals. My main question for the panelists was: after knowing the basic info of my doc and that I have never made a film before and I want this feature documentary to be as professionally made as possible, what are their immediate concerns or advice for me?



Shalini said: find a story editor, and work on the story outline as early as possible. I already started drafting my story outline a few days prior and I now wanted to do more research on story editors.

Also, Shalini said that I am giving myself permission, which was not something she did until much later in her career. "Giving myself permission" is a phrase that touches me deeply as an artist. I have met many creative and talented peers that don't think they can do art, but the situation is, they are just not giving themselves the permission to do so, and it is not about their abilities at all. Art is far far far FAR more about painting a portrait realistically. I believe that a person doesn't need to know color theory or perspectives to be able to do amazing art.

What they really need is a deep sensitivity to their surroundings (and experiences), a mindset to play and experiment with elements around them, and permitting themselves to do art.



Ai Weiwei was a part of the inspiration to me when I gave myself the permission to make a feature documentary. He didn't study film and had been doing visual art before his first feature documentary a few years ago. And I'm sure many people jump into new careers in their adult lives when they're not satisfied with their previous jobs, so why can't I jump into documentary as a student? I don't know, I kind of just had a lot of faith in my friends' story to feel like I could give myself the permission.

It was also almost funny to me to hear how all three of the panelists emphasized the difficulties of doing film so much. The first thing Shalini said in the panel was "if you can do something else, don't do film." It felt reassuring, concerning, and cozy all at the same time. Reassuring because I have been having a lot of emotional ups and downs since starting the documentary last fall and only foresee more. Concerning because that kind of statements felt like some kind of self-indulging self-sabotaging complex that doesn't have to be there for every filmmaker. Cozy because it connected with my artist identity and I had the thought "this is a part of what I belong to."


----


Right after the panel, I sat in a Starbucks and had a call with Sanjay Singhal, whose health foundation has been a major financial supporter of Imperial College's Psychedelic Research Centre. 20 minutes later, I'd had $20,000 funding secured for my documentary! That is basically all I need to get my baby documentary out of my mind womb. Or so I thought at the time.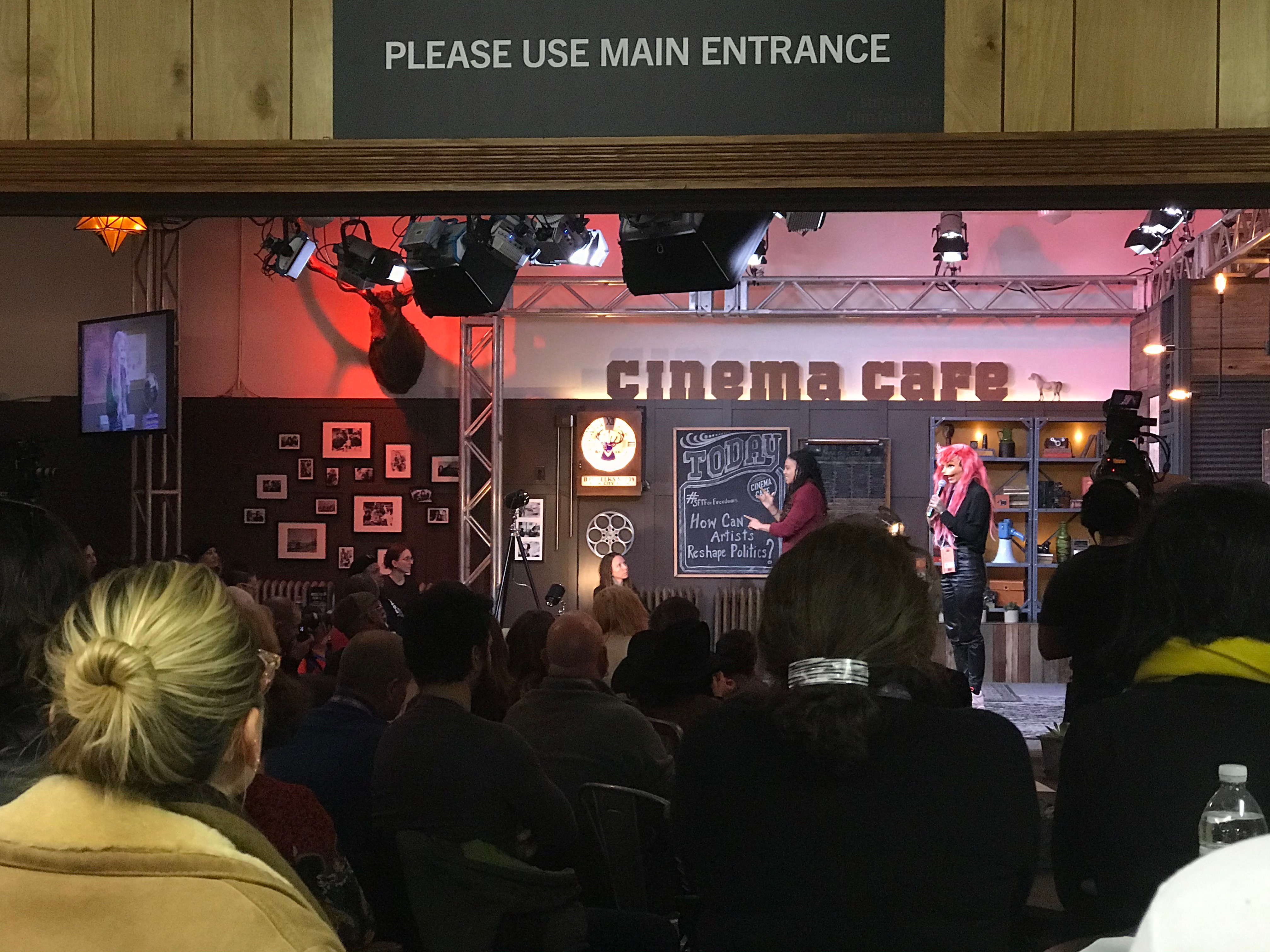 Then I met up with Erica Kiss, who's a film professor at Princeton, at the filmmaker lodge, after a panel talk on art and activism. Erica talked with me for almost two hours about how I could shape my documentary. Some of her advice was really hard to chew on at first -- I totally didn't expect it coming from anyone, and if I were to take her suggestions, I would have to dramatically change a lot of my plans for the doc.

It took me a while to realize that those difficult suggestions she gave me was her continuation of an idea I had already had in mind. She was just pushing it much further. She saw in my initial idea a desire or inclination to transcend the documentary genre.

Woah woah woah. I wasn't ready for that. I did not think about contributing something new to the whole fucking genre of documentary? It was enough to worry about not having enough money and creative power and yada yada to even get the film out. But now that I literally just secured the finance a few hours ago, I could finally move on to the next stage and focus on being artistic! Coming from an artist perspective, the idea of doing something no one has done before in a whole genre is so tempting. That temptation felt demonic.

My conversation with Erica reminded me of last year when I talked to my writing sem teacher about my then book project. He gave me so many ideas to think about that, while I was almost a little annoyed by how much he complicated my project, I appreciated that he treated me and my project so seriously and used his full intellectual power to help me brainstorm. I'd rather feel overwhelmed by professional advice, than just getting the nonchalant phrase "it's great just keep going."

And actually, the more I thought about Erica's suggestions in the days later, the more I liked them. I feel very very grateful for her.


----


At night, I went to the screening of Some Kind of Heaven by Lance Oppenheim, who just graduated from Harvard last year. It was a documentary about The Village in Florida, and all the shots of the film were so nicely done that the whole film felt like a fiction, as opposed to a documentary. Very very artsy. But I guess my problem with it is also that. It is so well done that I felt like I still treated the main characters as fictional after finishing the documentary. I would have preferred to connect with the characters more if the latter half of the film had more observational footage or even verite.
When I was waiting in the line to get into the screening, I met Grace, who was right in front of me, and we had a wonderful conversation (and were already talking about collaborating) before Kira, who remembered me talking about my documentary in the Q&A, ran into us right at the entrance of the theater. And Grace had met Kira at another film festival years ago. It was a little magical moment.
I lost Grace after the screening. But Kira, a guy from London, and I hung out after in the Doubletree hotel lobby till midnight. It felt so weird to meet new peers outside of the school context (as in, it's usually the case that I meet someone new by first associating them with their school. But here at Sundance it is just an interest in film that gets us together and I'd forget about asking people where exactly they go to school), It's that weird mental space between a student and a professional, again, which I probably love more than I normally realize.


----


By the end of this day, I felt like it had been ages. So much happened in this one day. The way I thought and felt about my documentary changed dramatically. While before this day I was largely worrying about getting the documentary done, now, after securing the minimum funding and being inspired by cool peer filmmakers and the professor, I was worrying about getting the documentary done artistically. And then I literally met people that I could collaborate with on art projects. The chronological events just fell into place seamlessly (securing funding -> generating new artistic ambitions -> meeting peers that could achieve that with me), it was unbelievable.



DAY 6-------------
JAN 30
shift: greeting people right outside the underwater VR Spaced Out @ Sundance HQ
After calling my friend Jonathan for a whole hour or something, and my phone died, I went to the only coffee shop in the main street to charge my phone. There I ran into Lance Oppenheim and Christopher Ripley. A little funny moment happened when Lance and I said hi to each other so naturally, but we hadn't actually talked ever. Maybe he recognized me because my orange hair stood out in the crowd at his screening the night before.
Then I kind of just invited myself to Lance and Chris' table by asking if I could join them, which was a question that almost never gets a "no"... It turned out that Lance really wanted to hear from Chris about his cinematography experience, and I had no idea about Chris' work before then, so I kind of just ended up sitting there not really saying anything. But just hearing Chris and Lance geek out about filmmaking felt super nice. There was so much pure passion for the art of filmmaking itself in that table, I felt grateful to be able to breathe that precious air for a whole hour.

.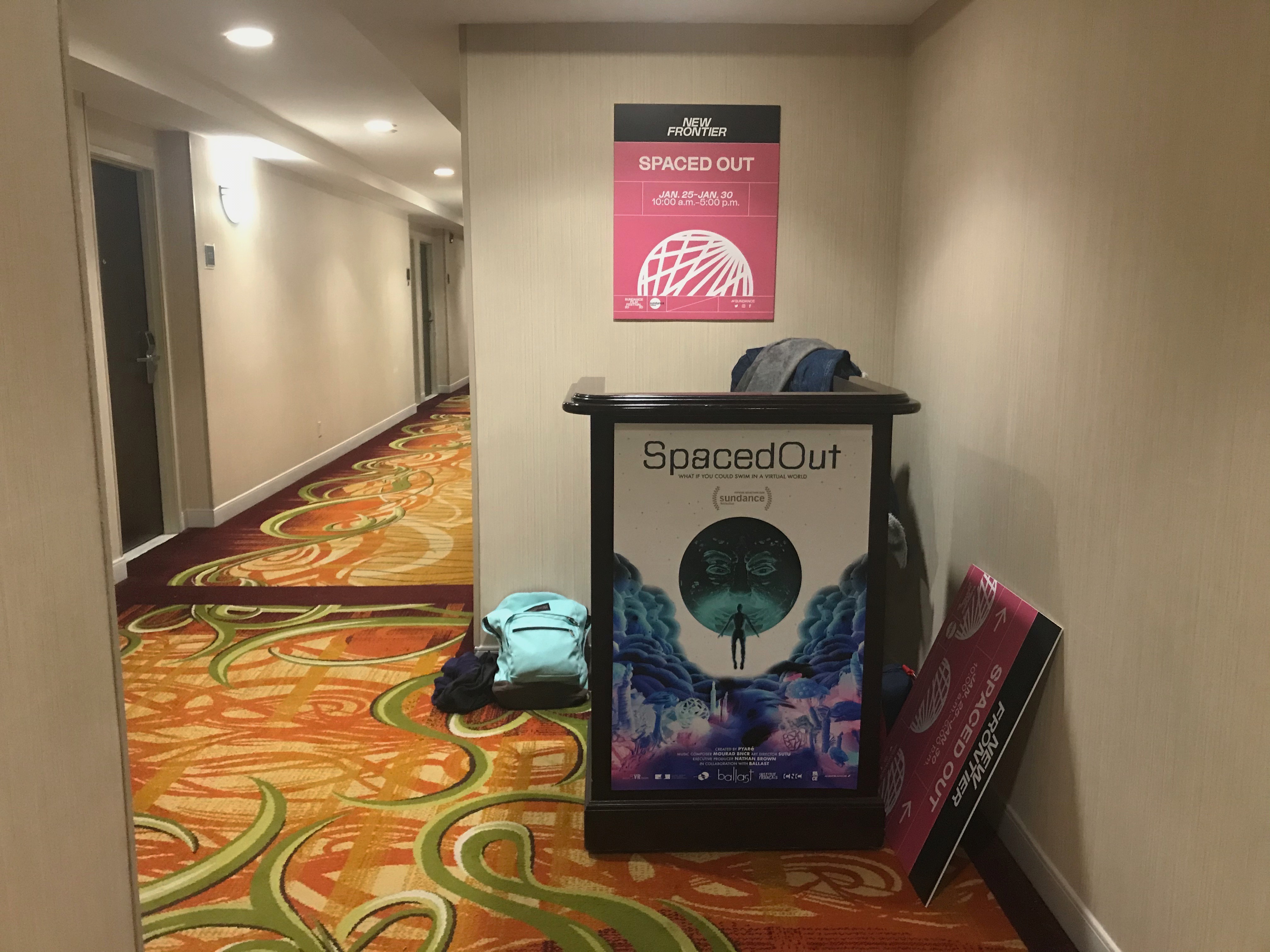 This was the last day of Spaced Out at the festival. When I went to my shift at 1pm, Julie, my "festival mom," told me that it'd become crazy popular in the days I worked in other places, and all of the spaces were booked for the rest of the afternoon. So my job this day ended up being telling people that there was no more room for them... Which was really hard, because this was literally the last day and some people really looked so excited when they walked up to me.

I met up with Kira after the shift. I looked through her instagram the night before, when I just screamed internally forever because I loved her artistic vision so much. We started imagining future collaborations. So Kira, I should introduce her a bit more properly here, is 23 but has been working independently as a filmmaker for 5 years now. In her gap year after high school, her short film was selected into the Cannes Film Festival, and it just turned out that she didn't really need a college education anymore to start working full-time creatively. So she started her own comany All Around Artsy. How cool is that? What's crazy about meeting her is that, she literally just started learning about psychedelics before going to Sundance: she was reading Michael Pollan's How to Change Your Mind on the plane and brainstorming a docu series about her own psychedelic experiences when she gets to have them in the upcoming months. Both of us felt so happy we found each other.


Kira introduced me to her YoungArts friends she was staying with. YoungArts is a prestigious art program for US high schools students. If you are selected as a finalist, you get to participate in a week-long program with all the finalists in theater, visual art, dance, film, writing etc etc etc, to take master classes with the best artists in your field and connect with your peers. Kira was a YA finalist in film a few years ago, and she is at Ignite because YA provides a program for 5 selected YA alums to participate in Sundance Ignite for free. So I went to Kira's bnb and met her friends there, who were not only (obviously) so talented, but also so warm and friendly. I say this wholeheartedly.




When I introduced myself, Kira told me to talk about the funding thing (I'd just told her about the 20k funding on our walk to her bnb), and I felt a little bit awkward. For some reason, I was afraid that if I tell people that I'd gotten 20k funding for my project, I'd appear unfriendly/threatening or something like that, or that I'd make them jealous because getting funding is such a huge hurdle for filmmaking. I'd only told Kira about it because I was already thinking of asking her to be on my team. But Kira's YA friends were so excited for me when they heard about the 20k funding.

Chandler said hearing that I got 20k funding gave her lots of hope in the world, because of the fact that someone was willing to give so much on a doc production.

Sarit, who was the documentary girl of the group, repeated 10 times that she was so genuinely happy for me because she knew how hard it is to get a significant amount of funding for documentaries. She said she had an editor friend and a producer friend in LA who were both the nicest people she knew and she could introduce me to them. Note: this was maybe 10 minutes into meeting Sarit.


How could meeting these girls not feel like a dream?


---


I applied to YoungArts in 11th grade and got Honorable Mention (the tier right below Finalist), which still granted access to regional YA events. But then I realized that I was actually not eligible for YA at all because I'm not an American citizen (when I applied, I'd thought that my student status in the US was enough for me to qualify). So I didn't get to go to the regional event, and obviously didn't apply again the next year, when, if I were a US citizen, I may had the chance to become a finalist.

Also, I literally thought I was going to RISD (an art school) for the longest time. In the days after I got into RISD and before the Ivy day, I thought that I'd still choose RISD if Columbia accepted me. I didn't think I'd get into Princeton, which I did love (and still do) because of how much faculty cares about teaching. (When I visited Princeton, Jeff Whetstone, an art faculty there, literally spent a whole hour showing me all the facilities and rooms in the visual art building and talking to me about how much the professors want to train real artists. I was just a little high school student doing her college visits! That completely changed my perspective about Princeton by 180)

But I can't deny the fact that there isn't a huge art student population on Princeton campus, or my high school. So I always wondered what being immersed in an artist community would feel like. I felt like I kept missing my chances of fully diving into a creative environment.
And finally, I met these people who grew up not knowing what not being surrounded by artists would feel like because they went to art middle schools art high schools and art colleges. I had been following tons of art students on instagram to see what art projects they were doing. I was always imagining my creative communities when I went on websites like instagram Behance and Artstation browsing people's works.

This was a nice moment, meeting these girls, when I felt that I finally found them. And I knew I'd only keep finding more of them from now on. I felt so so so so so grateful.




Also, Kira mentioned twice this day that maybe I wouldn't need to go back to Princeton after this year gap year. Maybe I'd have something taken off career-wise and would just be ready to dive into working full-time. Hmm. I wasn't very opposed to that idea actually.



DAY 7--------------JAN 31
shift: media relations (press office) @ Sheraton HQ
My shift this day was just sitting in the office for a whole day, occasionally giving award ceremony tickets to press people. Not much happened work-wise because my co-worker (who's an actual staff) could handle all of it, as not many people were showing up anyways. So I was honestly not very needed, and I just sat there and thought thoughts.

An idea came into my mind this day:

I want to start my own production company or studio in the next two years.



This company or studio will do research, make short or feature documentaries, design immersive experiences, and do art direction for VR/film/game. Its projects will primarily focus around egoless mind states and Calvino-y worlds. I'd love to have 1-3 long-time partners for the studio, and for each project, I will collaborate with different artists, scientists, and researchers that will contribute uniquely to the specific projects.

It feels totally feasible to me. I'd imagine that after this documentary gets done this year, after it gets into film festivals, I probably would have gotten to know a number of amazing artists in NYC and LA by then, and could start making enough name for my studio to be able to start operating professionally before I graduate in three years.

What is particularly exciting to me about this is the idea of

connecting the scientists and the artists I know or for sure will get to meet

. The academic community I have access to through Princeton, and the artist community I now am having much more access to through the people I meet for the documentary, are both so precious and lovely, I want them to know each other's existence, and work on amazing things together!!

I love this long-term goal. I can't wait to see how I will gradually get there.


After my shift, Kira and I went to a panel that turned out to be not so interesting. I did see a guy in Stanford shirt and went to talk to him. Turned out he and his friend drove 10 hours from Stanford to the festival for this weekend. Very cool.

Kira's friend invited us to a pizza making party. So we were there making pizzas and met more filmmakers.


Then there was a concert by Max Richter. It was a 90-minute concert version of his Sleep with a string quintet. I found a carpet area and lied there for almost the entire concert. I did fall asleep in the middle for a bit, but I mean, the original concert literally provided beds for the audience! I loved the moments of hypnagogia when I saw really creative imageries that flowed with the music in my mind.



original Sleep


After the concert we went to the party in the Ignite program, where we just got to meet more peer filmmakers. But I got quite tired after an hour, and left with Kenzie (one of the YA girls that Kira stayed with and introduced me to). I stayed overnight in their place. It was an absolutely fun time~
DAY 8--------------FEB 01
shift: pass/package office
Not much happened today. Kira, Kenzie, Sarit, and many other people left on this day. My volunteer shift was also really chill because no one really was picking up packages at this time of the festival.

I messaged Kira and she agreed to be the art director for my documentary! We would meet up in LA again on Monday to talk about further details of how we will collaborate on the documentary.

I met up with the two Stanford guys I met the day before for dinner. Finally spent some alone time reading and thinking about the documentary. Called my friend Aidan. Went to bed very early.
DAY 9-------------FEB 02
This was a mild day as well. I ran into Jen (she was the volunteer I shadowed in the media relations office on Day 4) when I was waiting for my bus with all my luggage. She happened to drive past where I was, which was kind of crazy to me, and she picked me up and drove me to the Sheraton HQ, just 1 minute walk from where I was gonna go.

Then I went to Film Church in the Filmmaker's Lodge, where volunteers and staff and everyone else interested gathered together to reflect on the Festival. It felt very cozy to me, just like how Sundance had been this whole time, to my surprise.



I got my last meal at this Mexican restaurant I really loved, and watched The Painter and The Thief, which won the award for creative storytelling. It was very very cool, and I definitely loved the way the editor edited the film. I wish I could write more about this film, but I'm getting tired of writing this update... Just go watch it when it's out somewhere. It's insane, and I loved it a lot!!
I tried watching two more films in the day, but left early because I couldn't bear them. I wasn't mentally ready for both films. I also spent some time walking around and reflecting on my festival experience.

he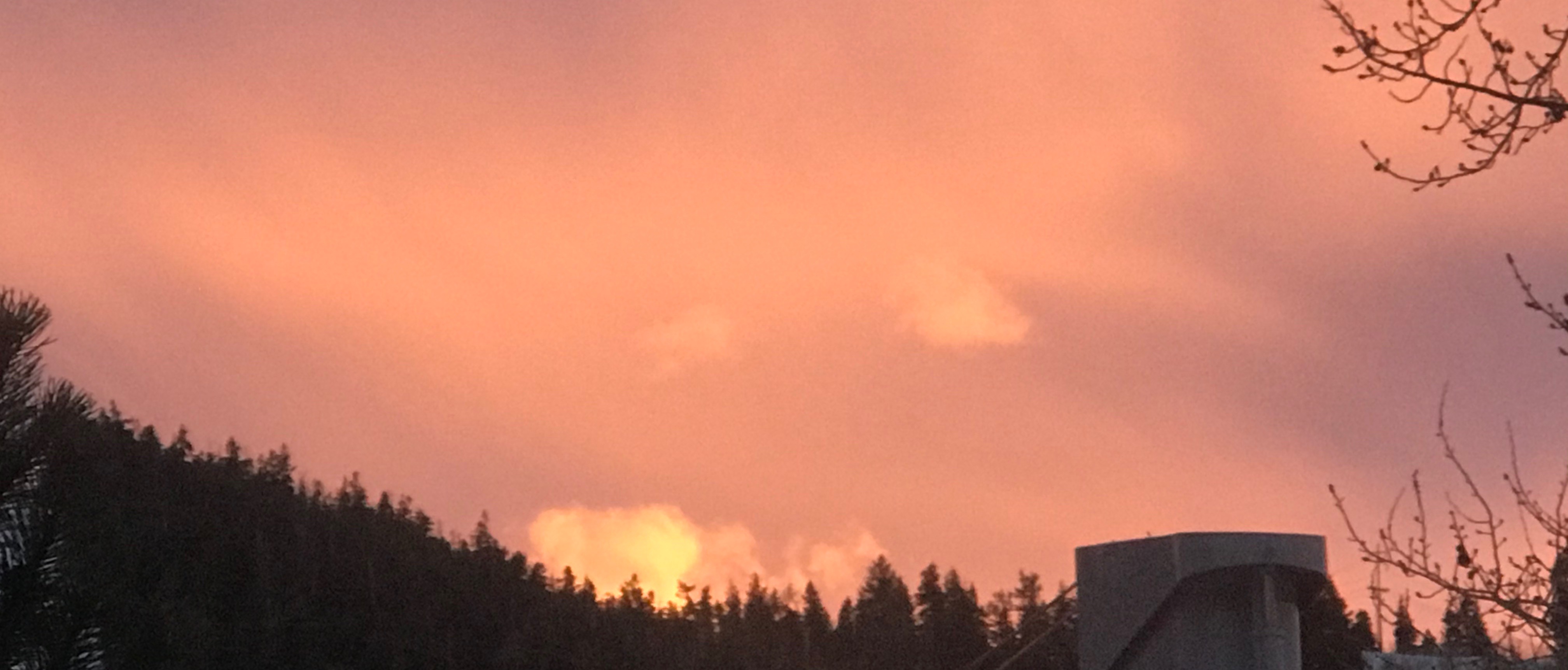 a little reflection


The whole of Sundance actually felt like a demystification process. Cool filmmakers were just hanging out right next to me, talking passionately about their filmmaking process and honestly about the hardships of getting the films done. My friend Kira has two friends who won awards at this year's festival. I must say my luck in running into Ai Weiwei, being placed by my volunteer coordinator into places that let me chat with cool artists and see behind-the-scenes of the festival's operation, and such, also made the demystification process much easier.

It was a demystification I had been hoping for: once the idea of getting the big award descends from the pedestal all the media put it on, I can focus all the more easily on the craft itself, and enjoy the process. The world feels more free to me now that I feel the awards are just markers people make up and the essence of the festival is to really create communities and conversations and spaces.


Maybe it is just Sundance. I just felt cozy here. I could so easily start talking to people here and I did meet so many cool people. It really just felt like a space for filmmakers to share their films and meet other filmmakers. And I certainly want to go back again. I loved the space Sundance created, physically and mentally.


----

Also, there has been an ongoing thing during my gap year, but it started happening more and more in the past month: I get complimented by my friends or people I just met, for qualities that I had dreamed to be associated with. It seems, all of a sudden, that I "somehow just make things happen," "are so passionate," etc.

They were so warm to hear, and so alienating at the same time. Sicne when did I become the Wendi they described to me? Am I actually her? I was literally still talking to friends about my anxiety of not being able to do things at the end of summer. And here I am, semi-feeling like I am operating something professionally sometimes when I get on calls with professional people and they treat me like potential business partners or something like that. I wanted this at the start of the gap year, to feel like I have something more than a college student identity. Am I finaly getting there? I am in disbelief because I can't tell how I got here, if I actually did get here.


Hmm. I can't quite tell if I am proud of myself for anything yet. After all these amazing things happened to me, it only felt like I just got so so lucky in all sorts of ways. What about all this was a result of something about me? There is only one thing I can think of: sticking to my faith in my friends' story. There were moments when people around me didn't believe my ambition for taking the documentary to a more professional level. I was annoyed but didn't blame them because I couldn't really believe in my ambition either. But thank goodness I kept going and trying, because I always had the faith that my frien

ds' story was so cool that it deserved a bigger platform.




I hope, though, that one day I will actually feel proud of my abilities, not just grateful for getting lucky.