24```

The Most Important Project of My Gap Year




There is a project that made me get only 4 hours of sleep for many nights because my brain wouldn't stop thinking about it.

In simply a month, it proved to be the single most important project I will work on for the rest of my gap year.





I am making a documentary.

It is about

student psychedelic clubs

, featuring the clubs at University College London, University of Pennsylvania, Princeton University, and Harvard University. It traces the origins of the clubs back in 2017, follows them for the 2019-2020 school year, and ends with a conference in which the student leaders all converge at Harvard, where the 2nd Annual Intercollegiate Psychedelic Conference will be held, and where psychedelics gained its national reputation through the Harvard professors Timothy Leary and Richard Alpert half a century ago.

But, this documentary is also about stories far beyond that. The featured student leaders, who became some of my dearest friends over the last year, came into psychedelics out of

a deep, deep care for alleviating human suffering.



Many of them discovered psychedelics on their personal paths of healing from various mental disorders. A few were suicidal at certain points. One took away her own life.

With many of these lovely people, I have already created beautiful memories: putting up santa hats around campus while dancing to music at 3am, pratically running on the roof under a breathtaking countryside sunset, a lot of long skype calls and sharing poetry and philosophizing. They brought to me new experiences and new worlds that I will always be so grateful for.


Psychedelic is still a challenging topic to talk about in academic settings.

I found these students so brave in speaking out

, and taking up leadership roles in their schools to get the conversation going and contribute to a cause they are so passionate about.


I want to tell their stories.
In the past four weeks, I gathered a team. I found four filmmakers at University College London (UCL), an assistant producer, a composer, and several more filmmakers who are excited to help out whenever.

I also had two friends who helped me a lot at the very early stage of the project.

We submitted a 23-page application to the Sundance Documentar

y Fund on October 20th, merely a week after I discovered the fund and decided to seriously start the project in London.

I had countless calls and meetings with friends I planned to feature, as well as people whom I had just met. I could be messaging 20+ people in a single day, just to hear their stories or see how they could help.



I talked with the founder of Raindance Film Festival, an Emmy-winning documentary filmmaker, and a former BBC journalist about the project, for 1 to 2 hours each.

Each of them gave me a different set of questions to think about for the project, financially, artistically, and thematically.


Little more than a week ago,

we traveled to Ashford, Brighton, and several locations across London, to interview Jonathan, one of the two founders of the psychedelic society at UCL.

We visited where he currently lives, and the places that were important to his journey of founding the society and becoming a psychiatrist.

This week, we are interviewing Rory Madden, a philosophy professor at UCL. The editor and I are tearing apart the teaser video we spent three afternoons/nights on, just to get it as polished as we can before releasing it to the public. The assistant producer is drafting a detailed business strategy plan. I am revising the treatment and meeting more people, apart from doing other logistical tasks.

We are doing more interviews in the next five weeks before I leave London: interviews with the society's current president, members, professors, researchers, etc.

I will travel to the US for several weeks in March and April to meet with my friends and film their stories and societies.

I want to put as much effort as I can into editing this documentary in the summer, and get the fine cut done before I go back to school in the fall.

I want to submit the film to major festivals.

I want to get it on Netflix.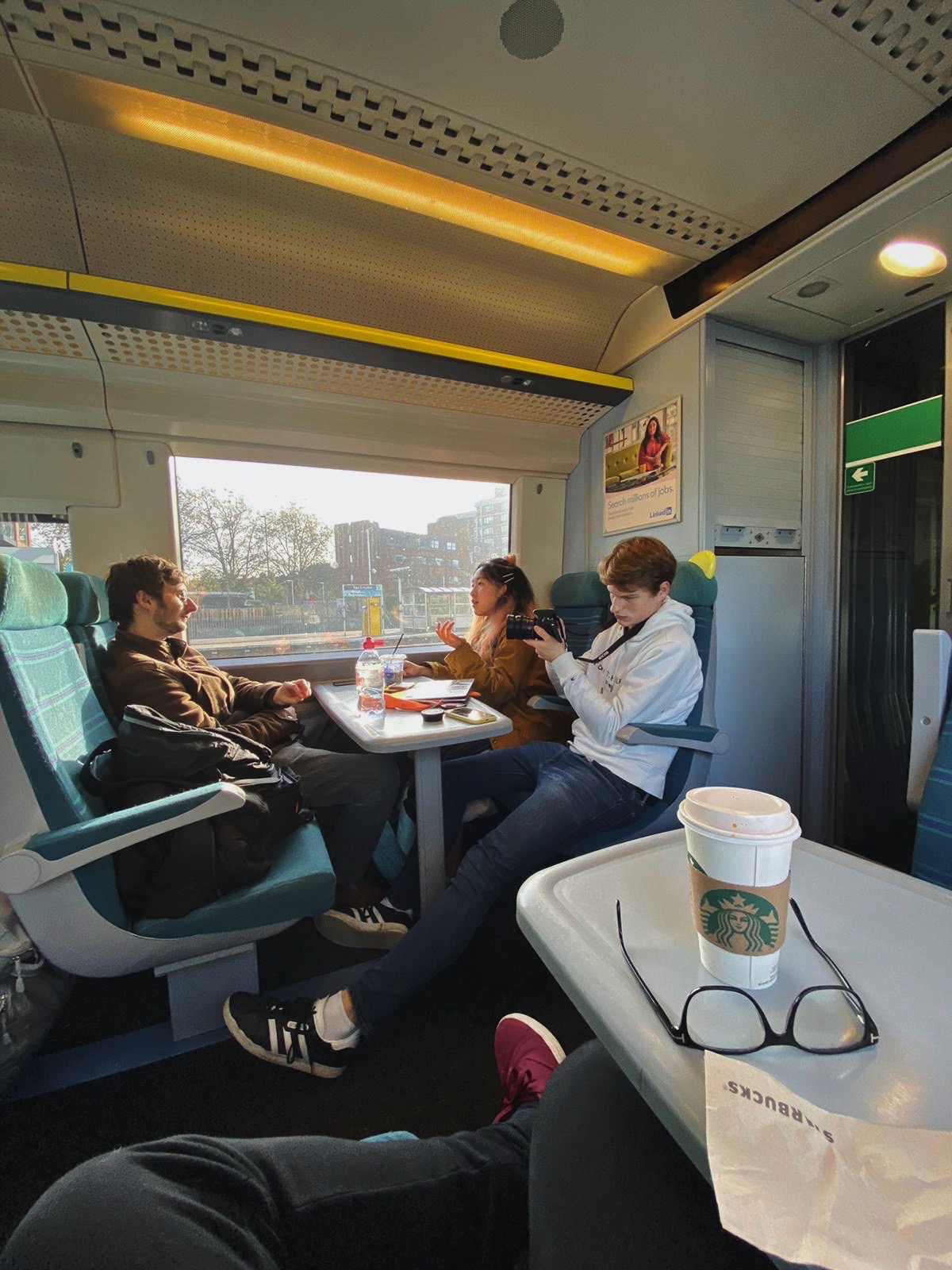 There, I said it. That is how much I hope more people could learn about the stories I want to tell.

Yes, I have a crazy goal. Every industry professional I've talked to so far, while all giving me very helpful advice, made sure I knew how crazy my idea was. They said Sundance receives tens of thousands of applications each year. They said competition in documentary is more than fierce. They said networks and investors simply want a large audience and a return on investment.

I know all of that. I am not deluded.

But, why not dream bigger? A gap year is especially perfect for pursuing something crazy like this. I have nothing to lose. No one expects a completely student-made feature-length documentary about a (seemingly) niche topic to be on Netflix. No one. I don't expect that to happen, either.



I just want to figure out my next steps as I go, be optimistic and proactive while remaining realistic.

Just in case it happens.






Even though it has only been a month since the project really took off, I have had many unexpected experiences already, all of which I will treasure deeply.


The week of writing the Sundance application was absolutely insane. It was what update #22 was all about. That Tuesday was the first time I contacted Jonathan. Our call failed because of bad internet quality. So he sent me an extremely long message about the story of UCL's society.

It immediately struck me that I absolutely had to make sure the documentary happen.

When I got home two hours later and read his message again, I started crying. It was a beutiful story.


The next day, I went to UCL's documentary society meeting and found several filmmakers who were immediately hooked by the project and ready to start shooting with me at any time.

Throughout the week, I talked to everyone I wanted to feature in the film and listened to their stories. I felt like I was living an extracted, collective life.

I became a container for each person's story with psychedelics and their societies, and I felt small and insignificant in an amazing way.




On the day the application was due, my friend Alex skyped with me for 7 hours straight as I was pulling an all nighter polishing the document as much as I could. There was no way I could have remained sane that week without him.

The three days of shooting with Jonathan gave me so much more than I could have imagined. Being a doctor and a researcher at the same time, he somehow still took out a whole weekend for me and my crew. We both went for a full hug when we first met. And the second day I already knew I found myself a great friend whose relationship with me would last beyond the shooting.

We walked by the cliffs and talked for hours in and out of the camera. He shared with me some deeply personal thoughts he once had, with the vast ocean in front of us, and a rainbow behind.

I have a lovely team. They can talk about film forever. They are always so flexible and generous with their time. Two of them just decided to come along on the shooting trip, which legitimately took the entire weekend, with Jonathan a few days before.





When I initially conceived the documentary in August, I imagined it would be just me and one or two more people working on the film. I didn't think about Netflix or film festival. I just thought that someone's got to tell the stories and no one else, in the small circle of people who know about these stories, had the time and energy to work on it like I did.

It is fascinating to look back at the starting point and realize how much my ambition and the project grew. It was mid August. I was in the subway in Philly. I had just talked to Elie during my short visit to Princeton and I realized I had closed off my mind too much about what I could do. Why was I fitting myself into the specific molds of a game designer, an artist, or a researcher, when I could, in fact, just do whatever I want to do without giving myself a label and a set of limited expectations?

Almost immediately after I spoke that thought in my mind, the idea of this documentary dawned on me.

Yes, I could do that, too.



I could not foresee the amount of help and love I have been receiving. So many people have been so generous in helping me with this project. Their faith in the project and in me has been powering me through.

To be completely honest, not everything is as smooth as it looks like, nor am I always full of positivity as I appear to be. Just a few days ago, I was experiencing a complete lack of positive energy: I was questioning every single thing I did. I was annoyed. I was crying. I rambled for hours to my friends and family.

But, as bad as it felt to lose all my positivity, I feel so grateful that this happened because the entire time I never questioned the specific tasks I had to do. I continued to meet with people, revise the treatment, plan everything I had to do for the documentary this week.



So now I know, this project has really become a part of me. I know I will never abandon it, even when I feel like nothing matters in this world.



I look forward to sharing this journey.

There is no losing or failing here, in the end.



I mean, it would also be quite cool, just in a different way, to watch an overly ambitious project fail over a year, right? I haven't seen anyone share their failure as it happens.


So, let's see how things evolve for the rest of this gap year :)